We saved you a seat in our jewel box theatre. Here's your chance to name it!
Did you know that this year Irvine Barclay Theatre is celebrating its 30th anniversary? It's quite a milestone, and we're thrilled to share it with you, our Barclay family. Your generosity, enthusiasm and participation have been instrumental in polishing this lovely, intimate theatre into the brilliant jewel it has become over the last three decades.
Of course, over the coming months, we have many surprises planned for you, but one of the most exciting reasons to celebrate awaits you inside the auditorium. After 30 years of loyal service to millions of guests—witnessing thousands of performances ranging from Clint Black to Dance Theatre of Harlem to the Dalai Lama; from Wynton Marsalis to Jane Lynch to Elvis Costello; and from distinguished Nobel laureates to 5-year-old ballerinas at their very first recital—the theatre's original seats and in-hall carpeting are being retired. We'd planned to squeeze the project in during the annual maintenance period in August, but the mandatory shutdown freed up the facility, and we were able to start the process this very week. Right now, the hall is getting a well-deserved makeover with beautiful, brand new seating and flooring! This transformational project has been more than two years in the making, and we can't wait to share it with you. In fact, here are some photos of the progress being made.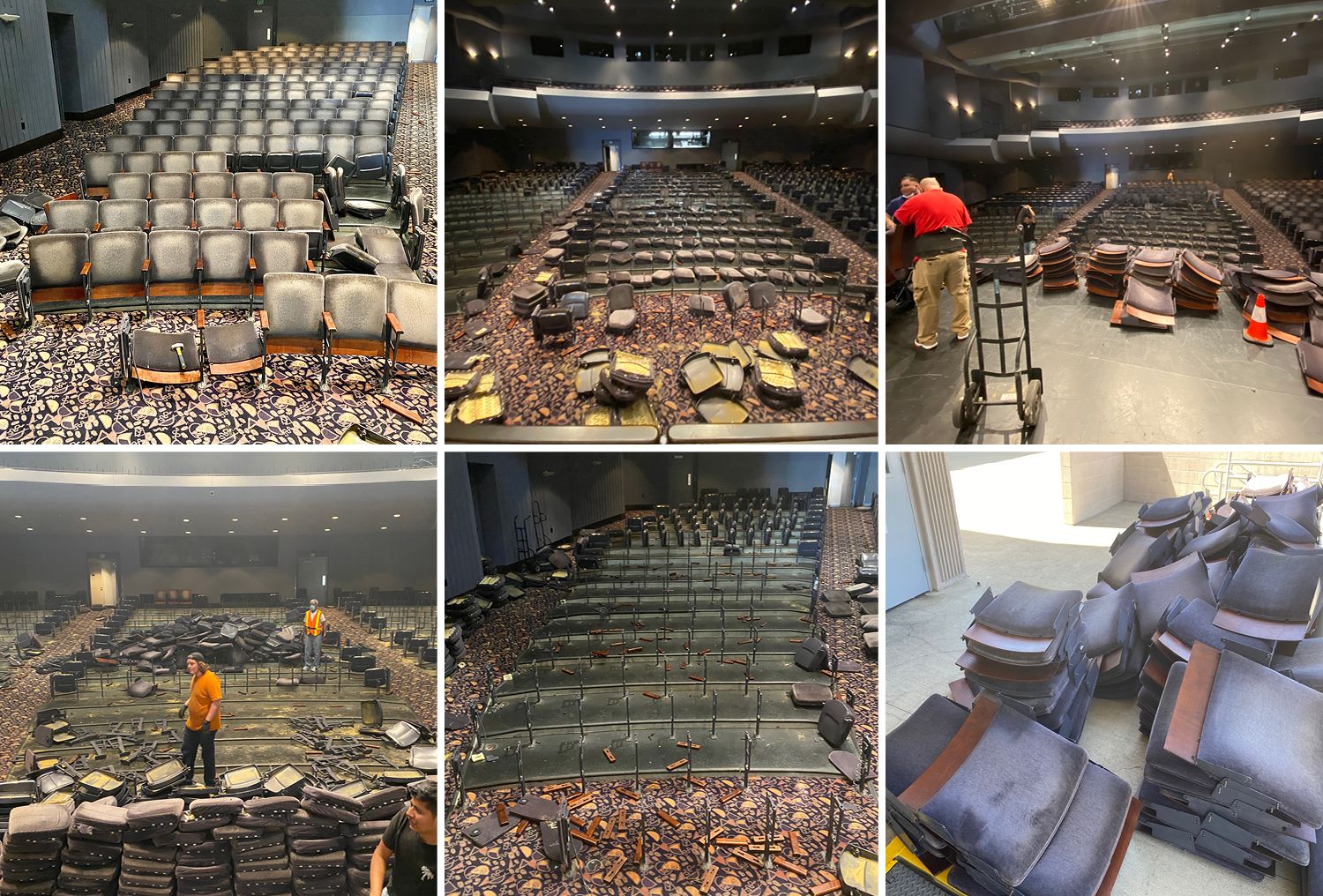 As the Barclay celebrates its 30th anniversary, we invite you to join us in honoring the theatre's past and launching it into a bright future by naming one or more of these brand-new seats in our jewel box hall. The Jewel Box Seat Campaign provides you with a unique opportunity to leave your legacy for years to come while making an impact in the community. You're also joining a group of wonderful individuals, corporations and foundations that support the Barclay's mission of broadening the scope, appreciation and accessibility of the arts in Orange County, like our friends below. You can name a seat for yourself, in honor of someone special, or caption it with your favorite quote. Dedicating a seat can also make an extraordinary gift! And we've made it affordable; you can make your mark for as little as $250. We hope this opportunity enables you to be a Hero for the Arts in a way that matters most to you! To learn more about the Jewel Box Seat Campaign, click here.
We are honored and grateful for your commitment to the theatre and our mission, and truly hope you'll consider taking your seat in the spotlight with the Jewel Box Seat Campaign. Thank you for investing in our community, and for helping us to provide joy, inspiration, education and a cherished place for all to celebrate life through the arts. We cherish our Barclay family and look forward to welcoming you safely back to enjoy more extraordinary performances in the gorgeous new seats as soon as we're given the all-clear.
To participate in the Jewel Box Seat Campaign, please click here.
Take good care of yourselves!
WITH GENEROUS SUPPORT FROM