2023-24 Trio Barclay Series
Ensemble-in-residence, Trio Barclay, enters their third season at Irvine Barclay Theatre with a spectacular 3-concert series. Featuring Dennis Kim (violin), Jonah Kim (cello), and Sean Kennard (piano), the trio brings you music by Rachmaninoff, Ravel, and Beethoven.
Subscribe to the 3-concert series for as low as $72. Best of all, keep your same seats all year long.
---
---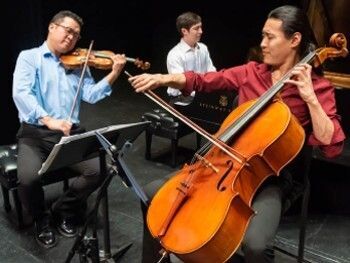 Trio Barclay: Rachmaninoff & Turina
Sun. Oct. 1, 2023 at 5pm
RACHMANINOFF: Trio élégiaque No.2 in D Minor, Op. 9
TURINA: Piano Trio No. 2, Op.76
Ensemble-in-residence Trio Barclay returns to the stage with the timeless beauty and emotional power of music by Sergei Rachmaninoff and Joaquín Turina.
Rachmaninoff's deeply expressive Trio élégiaque is a single-movement work that was composed in memory of the composer's friend and mentor, Pyotr Ilyich Tchaikovsky. Characterized by its mournful and sorrowful tone, reflecting Rachmaninoff's 's grief and nostalgia, the piece concludes with a haunting coda that gradually fades away, leaving the listener with a sense of quiet reflection.
Turina's Piano Trio No. 2 is a work that is lively, sparkling, evocative and concise. Distinct Spanish elements pervade throughout the piece including the middle movement teeming with flamenco-like dance rhythms.
---
Trio Barclay: Ravel's Piano Trio
Sun. Jan. 21, 2024 at 5pm
RAVEL: Piano Trio in A Minor
Additional repertoire to be announced
In their second performance of the season, Trio Barclay brings to life Ravel's Piano Trio, an unparalleled masterpiece of classical music.
Written in 1914, this work is considered one of the greatest examples of Impressionist period music and showcases Ravel's extraordinary talent for blending different musical styles including Baroque, jazz, and Basque folk music from the region where the composer lived as a child.
This remarkable work is a definitional piece for piano trios. Over the more than 100 years since its premier in 1915, the work has been performed and recorded by each generation's greatest trios. Be sure to join us as Trio Barclay takes its place in that musical pantheon.
---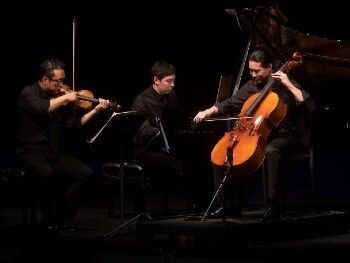 Trio Barclay: Beethoven's "Ghost" Trio
Sun. March 24, 2024 at 5pm
BEETHOVEN: Trio in D Major, Op. 70, No. 1, "Ghost"
Additional repertoire to be announced
Trio Barclay concludes their three-concert series with what is considered one of Beethoven's most remarkable works, his Piano Trio No. 1 in D major, also known as the "Ghost" trio.
The trio was first performed in 1808 in Vienna, with Beethoven himself playing the piano part. The second movement (Largo), which is the most famous and distinctive of the three, features a slow and mournful melody in the violin and cello, accompanied by an eerie ghost-like piano part. It is believed that around the time this piece was written, Beethoven was discussing an opera of Shakespeare's Macbeth (the words "Macbett" appear near sketches for the Largo) which features a ghost character.
Despite some initial mixed reviews, the piece gained popularity over time and is now considered one of Beethoven's most beloved chamber works. The Trio's sweeping melodies unsettle us with dramatic, rich contrasts of mood — restless, transfixing, and exuberant.