Jazz 2: Straight Ahead
Monty Alexander Trio
Back at It! Remembering The Terry Gibbs Dream Band:
The West Coast Jazz Hour Big Band featuring Nick Mancini and Tawanda
Blue Note Records 85th Anniversary Tour
---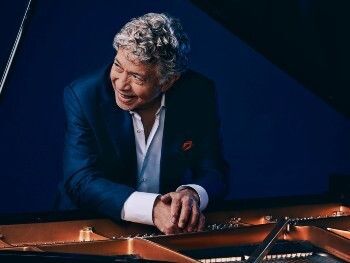 Monty Alexander Trio
Thurs. Sep. 28, 2023 at 8pm

 "Audiences find Monty Alexander's music instantly accessible, exciting and exhilarating, and they quickly warm to it and respond to it."    — Billboard
Nearly sixty years after moving to the United States from his hometown in Kingston, Jamaica, Grammy-nominated pianist Monty Alexander is a jazz legend, touring the world relentlessly with various projects, delighting a global audience with his vibrant personality and soulful musical messages.
A perennial favorite at the Montreux Jazz Festival where he has performed and headlined concerts 23 times since 1976, his spirited artistry is filled with endless melody-making, effervescent grooves, sophisticated voicings, and a romantic spirit. In every performance, Alexander applies his unique approach to a repertoire spanning a broad range of jazz and Jamaican folk songs, the American songbook, blues, gospel, bebop, calypso and reggae.
Because of his prolific performance career, his work with some of the foundational creators of jazz and popular music like Dizzy Gillespie, Sonny Rollins, Tony Bennet and Frank Sinatra, and his more than 75 recordings as a leader and sideman, Monty is cited as the fifth greatest jazz pianist ever in the definitive book The Fifty Greatest Jazz Piano Players of All Time.
---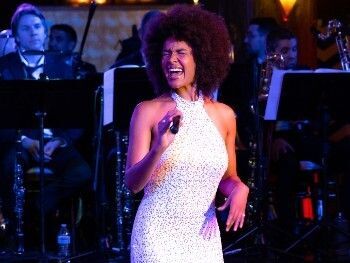 Back at It! Remembering The Terry Gibbs Dream Band:
The West Coast Jazz Hour Big Band
Featuring Nick Mancini and Tawanda
Fri. Jan. 12, 2024 at 8pm
The Terry Gibbs Dream Band created one of the most significant musical legacies in the history of jazz and big band music. Led by jazz legend and vibraphone master Terry Gibbs (who's 98 years young), the band was named the "Best Band in the World" in DownBeat's 1959 Critics' Poll. Playing in Los Angeles in the late 50s and early 60s, the band's roster was a Who's Who of the greatest jazz musicians in history, showcasing dynamic large ensemble playing, infectious arrangements, brilliant solo playing and rhythm section.
The West Coast Jazz Hour Big Band—led by pianist Josh Nelson and drummer Kevin van den Elzen—pays homage to the rich jazz tradition and history of Los Angeles. This special concert and, true to the Dream Band legacy, includes the finest jazz musicians currently working in Los Angeles, including acclaimed vibraphone player, Nick Mancini and Sarah Vaughan Vocal Jazz competition winner, Tawanda.
---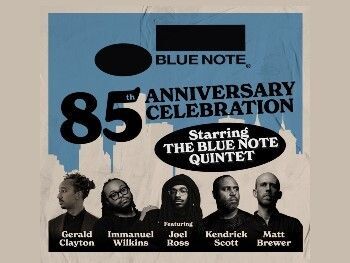 Blue Note Records 85th Anniversary Tour starring the Blue Note Quintet
Featuring Gerald Clayton (piano), Joel Ross(vibraphone), Immanuel Wilkins (alto sax), Kendrick Scott (drums), and Matt Brewer (bass)
Fri. Feb. 9, 2024 at 8pm

Blue Note Records is celebrating their 85th Anniversary with a U.S. Tour starring The Blue Note Quintet– a group brought together to honor the label's rich history and showcase the label's current roster of eclectic musicians.
Six-time Grammy Award nominee Gerald Clayton leads the band as musical director and pianist. Rounding out the group are vibraphonist Joel Ross, saxophonist Immanuel Wilkins, drummer Kendrick Scott, and bassist Matt Brewer.