2023-24 Dance Series
---
Style, Wit, Power, Grace. See some of the finest dance in the world.
Purchase tickets for all five events in the Series and save 20%.
---
Malavika Sarukkai: Anubandh – Connectedness
Sat. Nov. 18, 2023 at 8pm
"What the audience got to see was dance as a language, not just a repertoire." – The Hindu Newspaper, February 2023
A new solo dance creation conceptualized and choreographed by the eminent Indian classical dancer Malavika Sarukkai, Anubandh – Connectedness imaginatively reworks tradition and is a path-breaking work in the language of the classical Indian dance form of Bharatanatyam.
Exploring the essential relationship between nature and life, Anubandh recognizes our primal ties with the Sun and the Moon, as well as the Five Great Elements as they are honored in India: Earth, Water, Fire, Wind, and Space. Personal, bold and intense, this production explores the human condition arising from pleasure, violence, loneliness, isolation and sorrow. At a time of uncertainty in a fractured world, Anubandh is a call to the transformative power of hope.
Anubandh brings together a spectrum of celebrated musicians recorded by Music Producer Sai Shravanam, and features an innovative light design created by Niranjan Gokhale.  
---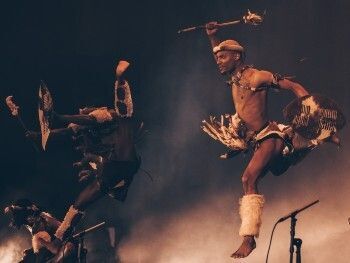 Step Afrika!
Wed. Jan. 17, 2024 at 8pm
"...the most energetic performance I have ever seen and that energy is contagious." – City Living Boston
SPECIAL NOTE: Audience participation has been a part of the step tradition since its inception in the 1900s. Members of the audience are invited to clap, stomp, cheer and participate in call and response with the Artists.
The first professional dance company in the world dedicated to the tradition of stepping, Step Afrika!'s beat will awaken you! Through movement, theater and music, Step Afrika! invites Orange County audiences not to miss a beat.
Founded in 1994, Step Afrika! is one of the top 5 African American dance companies in the United States. Step Afrika! blends percussive dance styles practiced by historically African American fraternities and sororities; traditional African dances; and an array of contemporary dance and art forms into a cohesive, compelling artistic experience. Performances are much more than dance shows; they integrate songs, storytelling, humor and audience participation. The blend of technique, agility, and pure energy makes each performance unique and leaves the audience with their hearts pounding.
---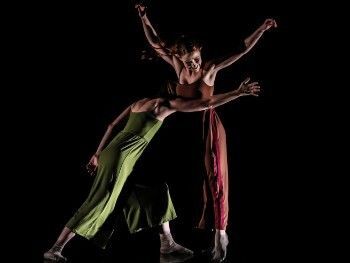 Backhausdance
Wed. March 27, 2024 at 8pm
Jennifer Backhaus, artistic director
"A fluid, unforced fusion of classical and contemporary dance." — The Brooklyn Rail
Celebrating their 21st season, Orange County's own Backhausdance is known for its ensemble aesthetic and lush movement vocabulary. The company's deeply human and emotional creations are infused with a sense of humor and theatricality featuring powerful, athletic dances and emotionally-charged dramatic pieces.
Backhausdance returns to the Barclay with a program featuring four rich and diverse pieces, including a reimagining of an audience favorite, Love and Other Possibilities (2006), choreographed by Jennifer Backhaus, founder and artistic director of Backhausdance.
This uplifting evening of dance innovation also includes works created by Amanda Kay White (Backhausdance associate artistic director) as well as renowned guest choreographers Peter Chu, and Alice Klock and Florian Lochner of FLOCK, a co-choreography German/American dance company.
---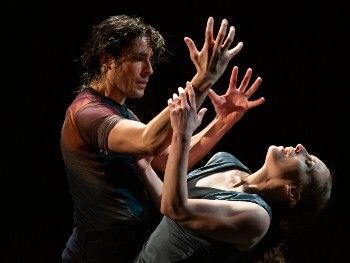 Soledad Barrio and Noche Flamenca: Searching for Goya
Thurs. Apr. 18, 2024 at 8pm
"One of today's great dancers of any genre." —  The New York Times
Hailed by critics for its transcendent and deeply emotional performances, Soledad Barrio and Noche Flamenca present flamenco in its purest form — with all the passion and fury.
Searching for Goya, Noche Flamenca' newest work, is inspired by the drawings and paintings of Francisco Goya, a celebrated late 18th-and early 19th-century Spanish painter.
Integrating live performance and video projection, award-winning principal dancer Soledad Barrio, a company of dancers, singers, and musicians explore the many ways in which the master painter responded to the turbulent social and political changes occurring in the world around him. 
Formed in 1993 by Artistic Director Martín Santangelo and his wife, Soledad Barrio, Noche Flamenca has developed into one of Spain's most successful flamenco companies. With annual seasons in New York City and Buenos Aires, and return engagements at theatres around the world, the company has a dedicated global audience.
Since its beginning, Noche Flamenca's goal has been to maintain the essence, purity, and integrity of one of the world's most complex and mysterious art forms. All aspects of flamenco — dance, song, and music — are interrelated and given equal weight in Noche Flamenca, creating a true communal spirit within the company — the very heart and soul of flamenco.
---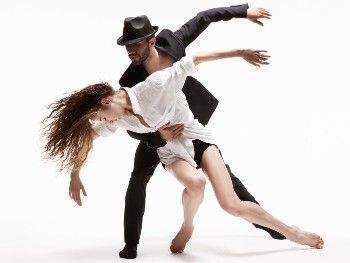 Ballets Jazz Montréal
Dance Me – Music by Leonard Cohen
Fri. May 17, 2024 at 8pm
Dance Me - Music by Leonard Cohen is an exclusive creation inspired by the rich and profound work of Montréal-based poet, artist and songwriter, Leonard Cohen.
Approved by Cohen during his lifetime, this riveting homage to the famed artist evokes the grand cycles of existence, as described in Cohen's deeply reflective music and poems.
Three internationally renowned choreographers were entrusted with putting movement to Cohen's legendary songs: Andonis Foniadakis, Annabelle Lopez Ochoa, and Ihsan Rustem. Their powerful and profound choreographic world reflective of Cohen's singular work is brought to life by Ballets Jazz Montréal's 14 artists and the strong, bold dramaturgy of Eric Jean.
Dance, music, lighting, scenography and videography all come together in this unforgettable show that pays tribute to Montréal's greatest ambassador.
Ballets Jazz Montréal is an internationally renowned contemporary dance company founded in 1972. With Alexandra Damiani as artistic director since 2021 and its troupe of high calibre dancers from around the world, the company continues to pursue its original mission while collaborating with celebrated contemporary dance choreographers that push boundaries and explore new ways of moving and expressing emotion.
To date, Ballets Jazz Montréal has presented over 2,600 performances in 68 countries, reaching a total audience of nearly 3 million spectators.
Songs in the show include: "Here It Is"; "Lover, Lover, Lover"; "Dance Me to the End of Love"; "Boogie Street; Steer Your Way"; "Everybody Knows"; "Tower of Song"; "So Long, Marianne"; "A Thousand Kisses Deep" (poem); "Suzanne"; "Famous Blue Raincoat"; "Nevermind"; "First We Take Manhattan"; "It Seemed the Better Way"; "Hallelujah"; "String Reprise" / "Treaty."