Jeeyoon Kim, piano
Together Again 
/si-úm/ 
Sunday, July 11, 2021 at 3pm PDT
(6pm EST)
Sponsored by The Recording Industry's Music Performance Trust Fund and Orange County Musicians Union Local 7, American Federation of Musicians
This concert is FREE and available to watch LIVE and IN-PERSON at the Barclay or virtually, from your device, via STREAMING ACCESS.
We ask that you RSVP by clicking the "Reserve Virtual Access or Theater Seating" button below and selecting your choice.
When choosing In-Person Seating, please indicate the number of persons attending. For Virtual Access, please select "1" in the dropdown box. 
---
Program
Debussy: La Plus que lente
Scarlatti: Sonata in E major, K.380
Scarlatti: Sonata in D minor, K.1 (L. 366)
Handel: Chaconne in G major, HWV 435
Rachmaninoff: Vocalise 
Rachmaninoff: Etude in E-flat minor, Op. 39, No. 5
Debussy: Reflets dans l'eau (Reflections in the water)
Debussy: Doctor Gradus ad Parnassum (Steps to Parnassus)
Kapustin: Concert Etude, Op. 40, No. 6, "Pastoral"
Chopin: Andante spianato et grande polonaise brillante in E-flat major, Op. 22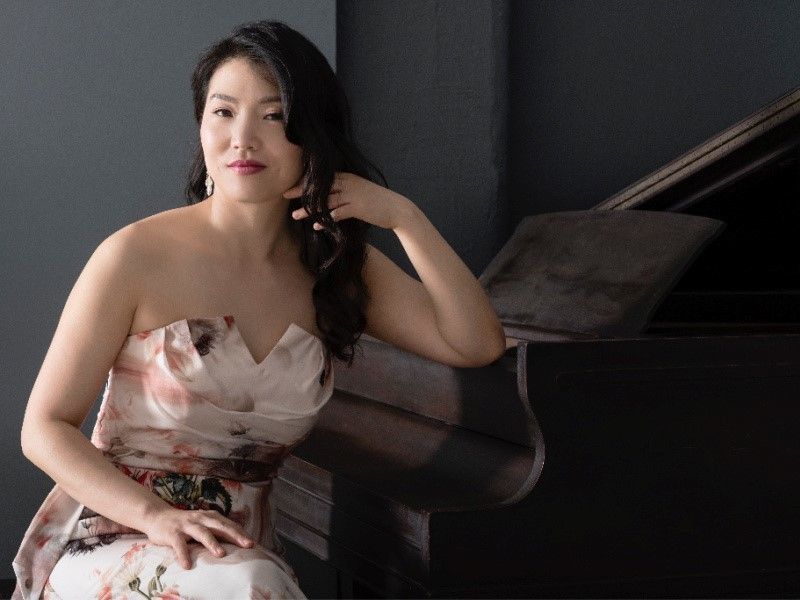 Classical pianist Jeeyoon Kim delights audiences with innovative concert experiences imbued with a sparkling combination of sensitive artistry, broad emotional range, and impeccable technique. A native of South Korea, Kim has inspired a dedicated and passionate fan base by defying conventional wisdom and expanding on the traditional classical concert experience. Her 2016 debut album, 10 More Minutes, featured a conversation with the audience from onstage. For her next act, Jeeyoon collaborated with New York-based visual artist, Moonsub Shin, to create a multimedia masterpiece, Over. Above. Beyond. 
Jeeyoon began studying piano when she was just four years old, and her love of music and the piano propelled her through her undergraduate studies in piano performance in her native Korea. After moving to the U.S., she graduated with distinction on full scholarship from Indiana University's renowned Jacob School of Music with a master's degree and a doctorate degree in piano performance. 
She is an art activist, educator, podcaster, author, and award-winning performer. Today, between performances at venues including Carnegie Hall, the Chamber Music Society in San Francisco, and the Stradivari Society in Chicago, Jeeyoon remains focused on finding new ways with which to connect with audiences, bringing a fresh perspective to the classical piano repertoire.
WITH GENEROUS SUPPORT FROM