Celebrate the holidays with Irvine Barclay Theatre! We're proud to be participating in an exciting new fundraiser hosted by South Coast Plaza. This spectacular exhibit and online auction will take place from Nov. 14 to Dec. 4 at the internationally renowned shopping and dining destination in Costa Mesa. 
The Barclay has decorated a special holiday tree, which you can bid on in an online charity auction beginning November 14, with one hundred percent of the proceeds from the winning bid benefiting Irvine Barclay Theatre, a California 501(c)(3) nonprofit organization, and through it, the Orange County community it serves. The tree will be delivered to the highest bidder in time for your holiday celebration. 
Visit the Pavilion of Trees at the South Coast Plaza Pavilion. [map below] The Barclay's Tree is #397
The Barclay tree, along with more than 30 one-of-a-kind trees decorated by Southern California national and international nonprofit arts institutions, will be on view for free to the public from 11 a.m. to 7 p.m. at The Pavilion, an open-air space at South Coast Plaza's north parking structure (see map below). COVID-19-related safety measures will be observed at The Pavilion and throughout South Coast Plaza. 
The Barclay tree celebrates the theatre's belief that performing arts are essential. Inspired by its "jewel box" hall, the décor combines rich jewel-tone colors with trimmings that showcase all of the many art forms—music, dance, theater and more—that have graced the Barclay stage for the past 30 years.
Dripping in "gems" and tiny ornament treasures, the tree includes: a 24k gold-plated mini-saxophone with real crystals (a special nod to the Barclay's saxophone-playing leadership duo, Jerry Mandel and Craig Springer), unique multi-colored bejeweled topper by Cody Foster & Co. (a $180 value), dozens of miniature instruments with amazing details—tiny guitars, brass horns, pianos, drum and more—including a cello with bow in its own velvet-lined case, authentic opera glasses, and a small sleigh under its boughs.
Along with the whimsically adorned tree, special treats for the winning bidder include:
An Evening at the Barclay: This package includes two VIP tickets for an Irvine Barclay Theatre-presented event inclusive of parking and access to all Gold Bar perks (complimentary cocktails & refreshments in our private bar area, an invitation to meet & greet with the artist, and post-show reception). This package also includes dinner at Bistango Restaurant in Irvine. (approx. value: $400) IMPORTANT: Dates and details TBD based upon venue re-opening guidelines.
 

​​

Irvine Barclay Theatre will work directly with the winning bidder to secure the seat-naming rights for two of the brand-new chairs in our "jewel box" theatre auditorium. ($500 value)
 
A digital music player/speaker programmed with holiday music by past Barclay artists. (approx. value: $100)
 
BONUS: Sunday Brunch for two at Bayside Restaurant in Newport Beach (approx value: $150)
South Coast Plaza will also present three awards for outstanding design selected by a panel of judges: $2,500 for the third prize winner; $5,000 for the second prize winner and $10,000 for the grand prize winner. The winners will be announced on Dec. 4 in person at The Pavilion and on South Coast Plaza's social media.
Irvine Barclay Theatre thanks South Coast Plaza for its support of the arts!
The Pavilion of Holiday Trees is produced by South Coast Plaza with Baruch/Gayton Productions.
Read the first announcement here, and look for more details from us on how you can participate!
Map of the location of the Pavilion of Holiday Trees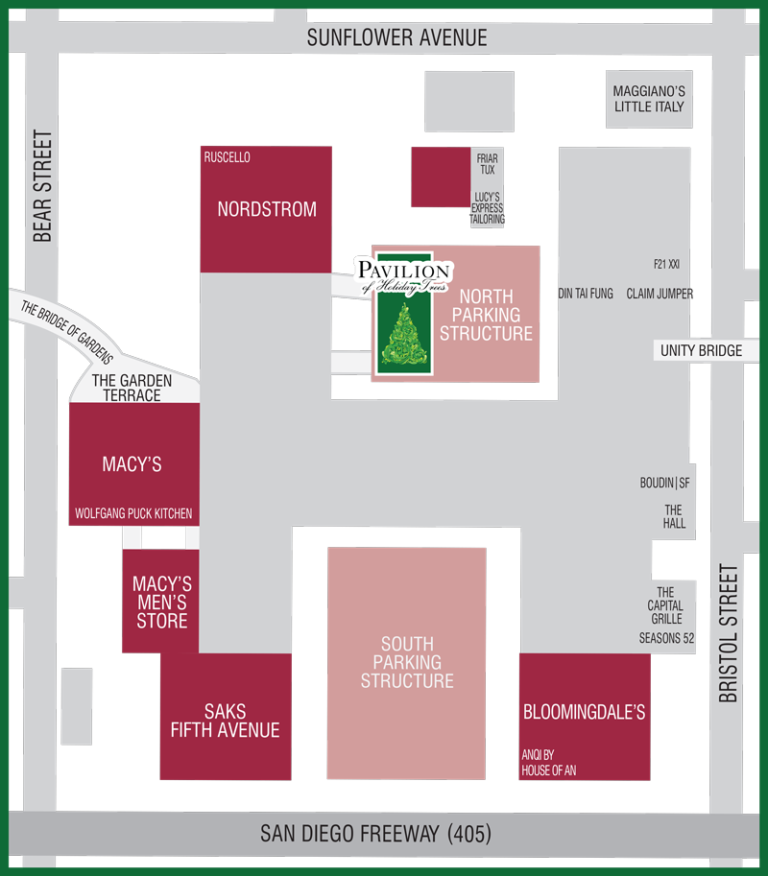 WITH GENEROUS SUPPORT FROM