THE CHANTAYS
Saturday, October 31 at noon
at Bayside Restaurant
The Chantays are a legendary OC surf rock band whose music combines electronic keyboards and surf guitar, creating a unique and haunting sound.
The group rocketed to national fame in 1962, when two of its members, Bob Spickard and Brian Carman, wrote the hit "Pipeline" while still seniors at Santa Ana High School. Reaching No.4 on the Billboard Hot 100, "Pipeline," with its beautiful guitar line and propulsive bass part, is one of the most recognized surf guitar instrumentals in music history, and is considered one of the landmarks of the surf genre.
The Chantays have been honored for their contributions to music, including being honored in 1996 by Hollywood's Rock Walk, founded to honor individuals and bands that have made lasting and important contributions to music. "Pipeline" is noted as one of the 500 Songs that Shaped Rock & Roll and has been used in many films, television programs and commercials, and appears on numerous compilation albums. Chantays Avenue near Santa Ana High School bears the group's name.
Doors open at 11:30am for lunch, the music begins at noon. 
Click here to preview the menu.
Prime Patio Seating:     $90
Premier Plus Seating:  $135    (Nearest to the stage under the tent. Includes a complimentary glass of red or white wine)
The price is all-inclusive of lunch, tax, tip and music. Complimentary self and valet parking.
For bookings of more than 4 in one party, please call the Barclay at 949.854.4646 during the hours of noon-4 daily.
PLEASE NOTE: Advance sales stop at 4pm on the Friday prior to the event. In-person purchases may be made at Bayside based on availability.
---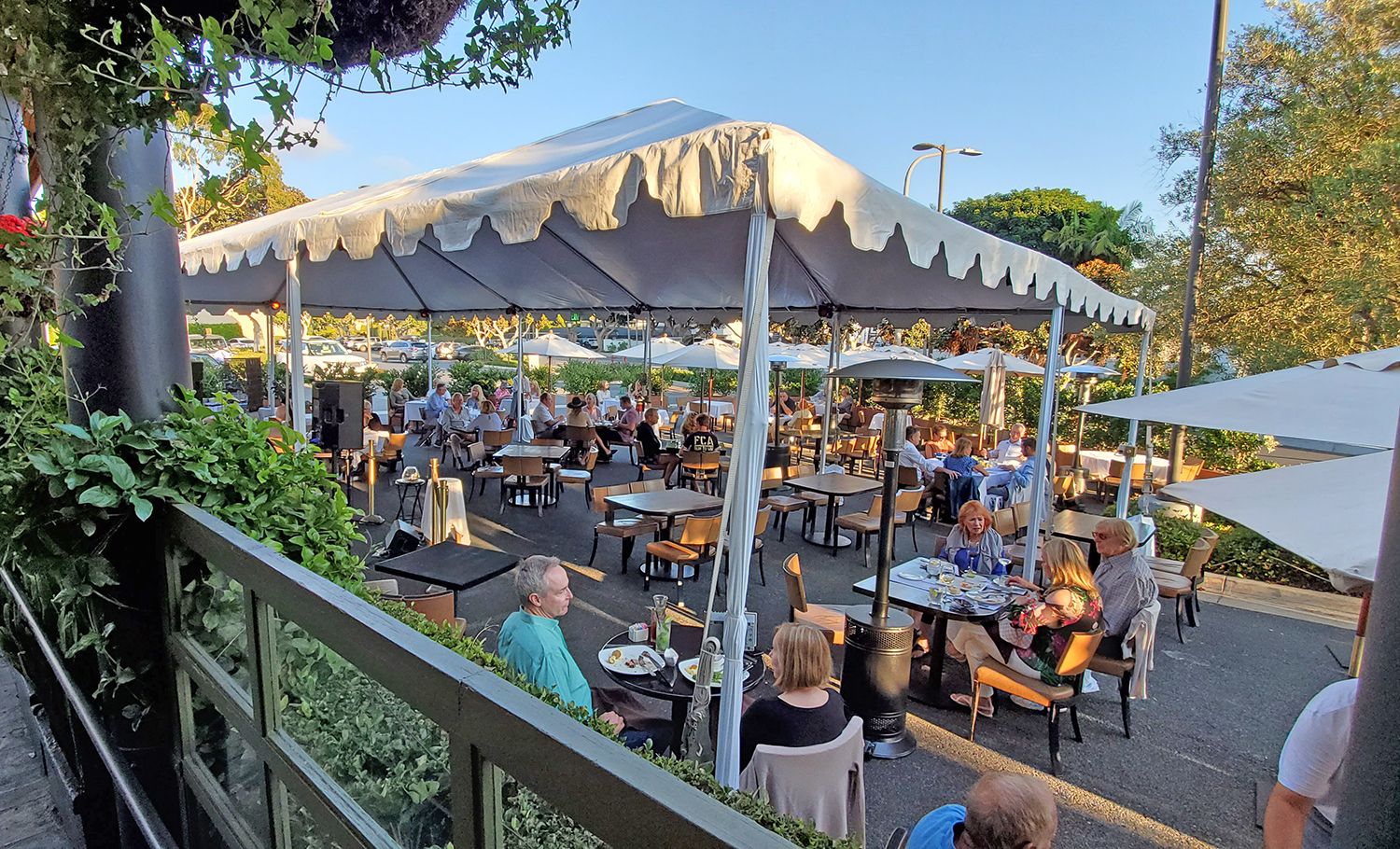 Bayside Restaurant's outdoor patio is very well set up for social distancing. They have been open for many weeks now and have been following all state guidelines for safe outdoor dining. More information on these guidelines can be found here.
A very important part of keeping safe is for everyone to follow thoughtful mandatory safety rules.  
A mask must be worn when entering, going to and from your table for restrooms, socializing or leaving. While seated, masks are optional.
We will take all attendees' temperatures upon entering and your temperature must be under 100 degrees for admittance. 
Please use common sense precautions and stay home should you or any member of your party/household have symptoms of illness.
You will only be seated at a table with the members of your party.
Bookings are non-refundable, though exceptions may be considered if patrons revise their plans due to individual health and safety concerns.