John Clayton, bass
Gerald Clayton, piano
Kevin Kanner, drums
Saturday, October 24 at noon
at Bayside Restaurant
This father/son duo each have their own illustrious musical careers, but there is something really special when family gets together to play!
John Clayton excels as a composer, arranger, conductor, producer, educator and, yes, extraordinary bassist. With a Grammy on his shelf and eight additional nominations, artists such as Diana Krall, Paul McCartney, Regina Carter, Dee Dee Bridgewater, Gladys Knight, Queen Latifah and Charles Aznavour vie for a spot on his crowded calendar. Career highlights include arranging the "Star-Spangled Banner" for Whitney Houston's performance at Super Bowl 1990 (the recording went platinum), playing bass on Paul McCartney's CD Kisses on the Bottom, arranging and playing bass with Yo-Yo Ma and friends on Songs of Joy & Peace, and arranging, conducting and playing on the 2009 CD Charles Aznavour & The Clayton-Hamilton Jazz Orchestra. 
Gerald Clayton searches for honest expression in every note he plays. The four-time GRAMMY-nominated pianist/composer formally began his musical journey at the prestigious Los Angeles County High School for the Arts, and continued his scholarly pursuits by earning a B.A. in Piano Performance at USC's Thornton School of Music under the instruction of piano icon Billy Childs. After a year of intensive study with NEA Jazz Master Kenny Barron at The Manhattan School of Music, Clayton won second place in the 2006 Thelonious Monk Institute of Jazz Piano Competition. This past February, Gerald was appointed artistic director and conductor of the Monterey Jazz Festival's Next Generation Jazz Orchestra.
Doors open at 11:30am for lunch, the music begins at noon. 
Click here to preview the menu.
Prime Patio Seating:     $90
Premier Plus Seating:  $135    (Nearest to the stage under the tent. Includes a complimentary glass of red or white wine)
The price is all-inclusive of lunch, tax, tip and music. Complimentary self and valet parking.
For bookings of more than 4 in one party, please call the Barclay at 949.854.4646 during the hours of noon-4 daily.
PLEASE NOTE: Advance sales stop at 4pm on the Friday prior to the event. In-person purchases may be made at Bayside based on availability.
---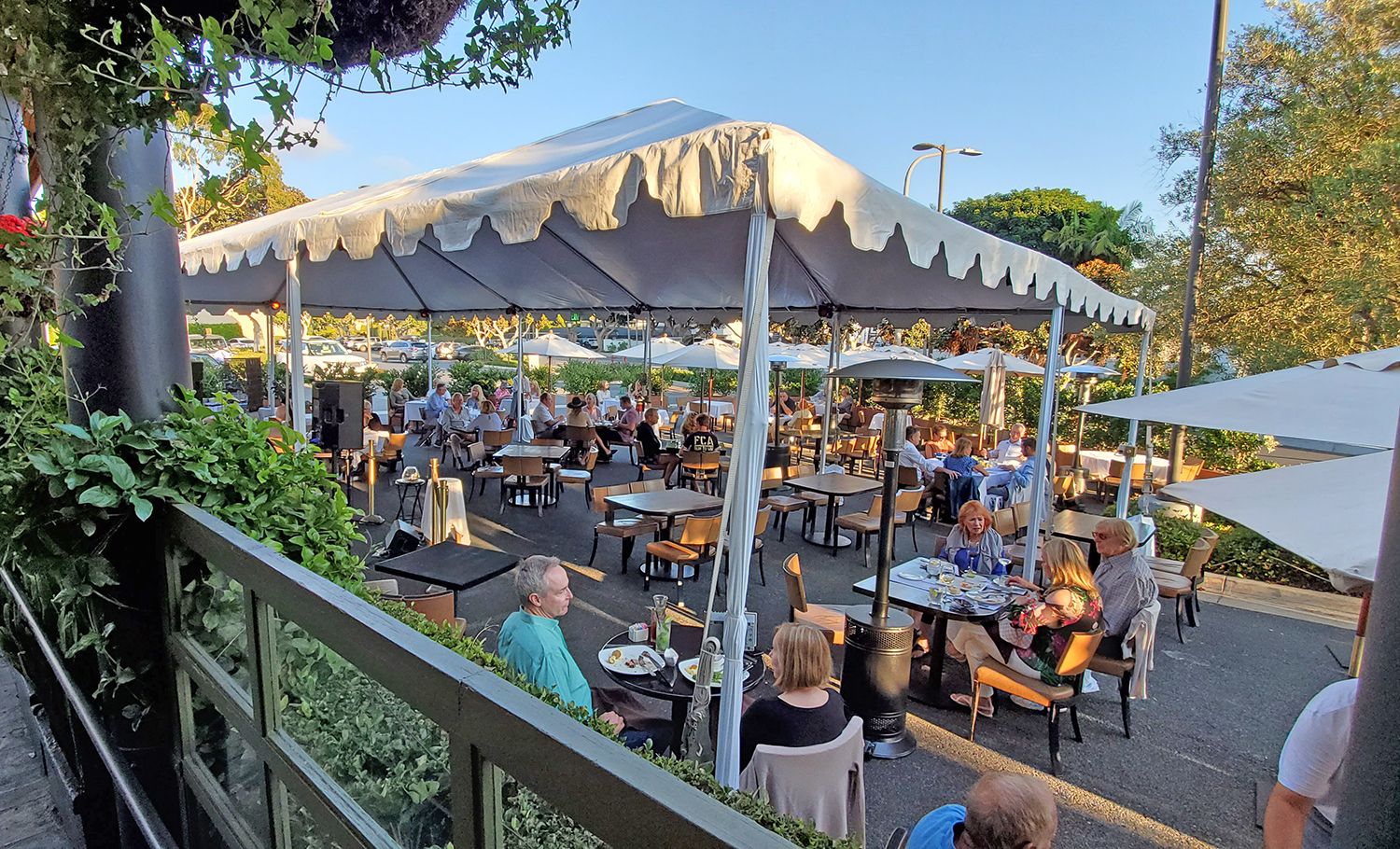 Bayside Restaurant's outdoor patio is very well set up for social distancing. They have been open for many weeks now and have been following all state guidelines for safe outdoor dining. More information on these guidelines can be found here.
A very important part of keeping safe is for everyone to follow thoughtful mandatory safety rules.  
A mask must be worn when entering, going to and from your table for restrooms, socializing or leaving. While seated, masks are optional.
We will take all attendees' temperatures upon entering and your temperature must be under 100 degrees for admittance. 
Please use common sense precautions and stay home should you or any member of your party/household have symptoms of illness.
You will only be seated at a table with the members of your party.
Bookings are non-refundable, though exceptions may be considered if patrons revise their plans due to individual health and safety concerns.