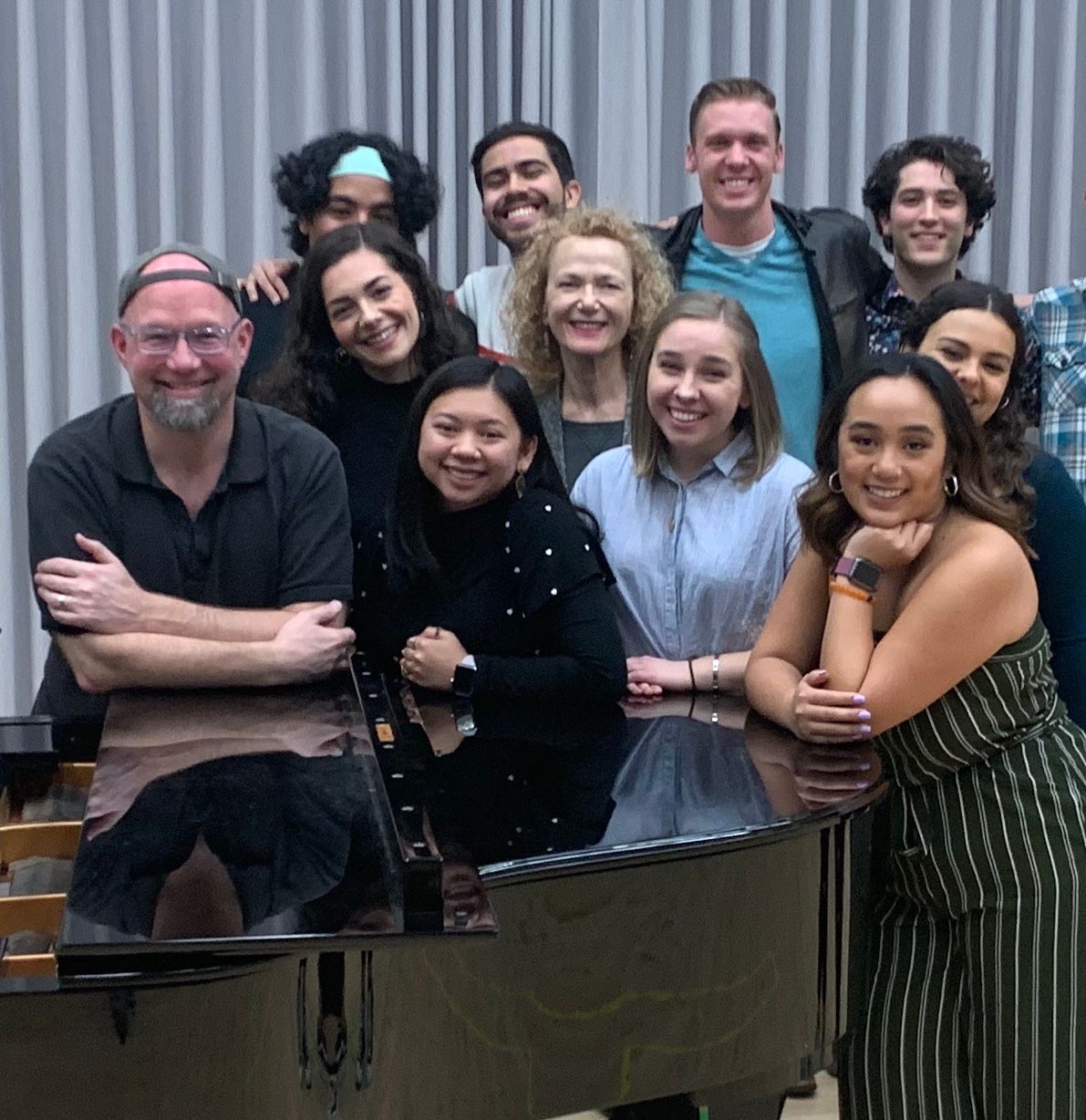 16  BFA students participated in a Master Class with Scott Coulter on Friday, January 17, 2020  at 3pm at the Claire Trevor School of the Arts, Musical Theater Department. 
This Master Class preceded the 'Music of the Knights: A celebration of three of Britain's most legendary songwriters' at the Irvine Barclay Theatre on Saturday, January 18, 2020;  a show conceived, produced, directed by and starring Scott Coulter.
During the Master Class eight students performed songs they had prepared and Scott worked with each student to develop their performance. They were accompanied on the piano by Leslie Wickham, UCI CTSA MFA candidate. 
Catherine Dickinson, Community Outreach Coordinator at Irvine Barclay Theatre, introduced Scott Coulter and talked to the about the Barclay's goal to enable visiting artists to work with local students. 
Scott used his extensive experience as a performer, director and teacher to quickly bring out the best in the students. He frequently asked the audience questions so that everyone felt involved: 'What is this song about?', 'Which was the most exciting part?', 'She has a beautiful voice but do we believe her?'..
When Ernie Figueroa was struggling to passion in his performance of 'My Petersburg' from Anastasia, Scott amused the students by asking Ernie to get on the other side of the piano and compete with him to push it across the floor, whilst still singing the song. 
The other students who performed were Ally Abonador, Maya Efrat, Katherine Hay, Ariella Kvashny, David Bradbury, Justine Rafael and Estevan Hernandez Barreto, a number of whom  performed in 'Company' on the Barclay stage in Nov 2019 in the CTSA Fall Musical. They all made significant progress in their short time with Scott. 
Comments from Katherine Hay, 3rd year BFA Master Class participant:
"Being able to participate in Scott Coulter's masterclass was an invaluable experience. I learned a great deal both from being able to watch my peers' experience as well as have my own. It was very interesting to see how one exercise or adjustment that Scott suggested allowed the performer to get more out of the song and have a more engaged performance."
"My favorite exercises involved a student trying to rip a sweater or push against a piano with Scott pushing from the other side. This physicialization allowed students to engage their bodies without getting into their head about the notes and the sound."
"Then when it was my turn, Scott helped build me an audition cut for a song that l love, something that I am actually able to use at an audition I have next week! My peers and I are very grateful that Scott was able to take time out of his schedule to come and share his insight with us."