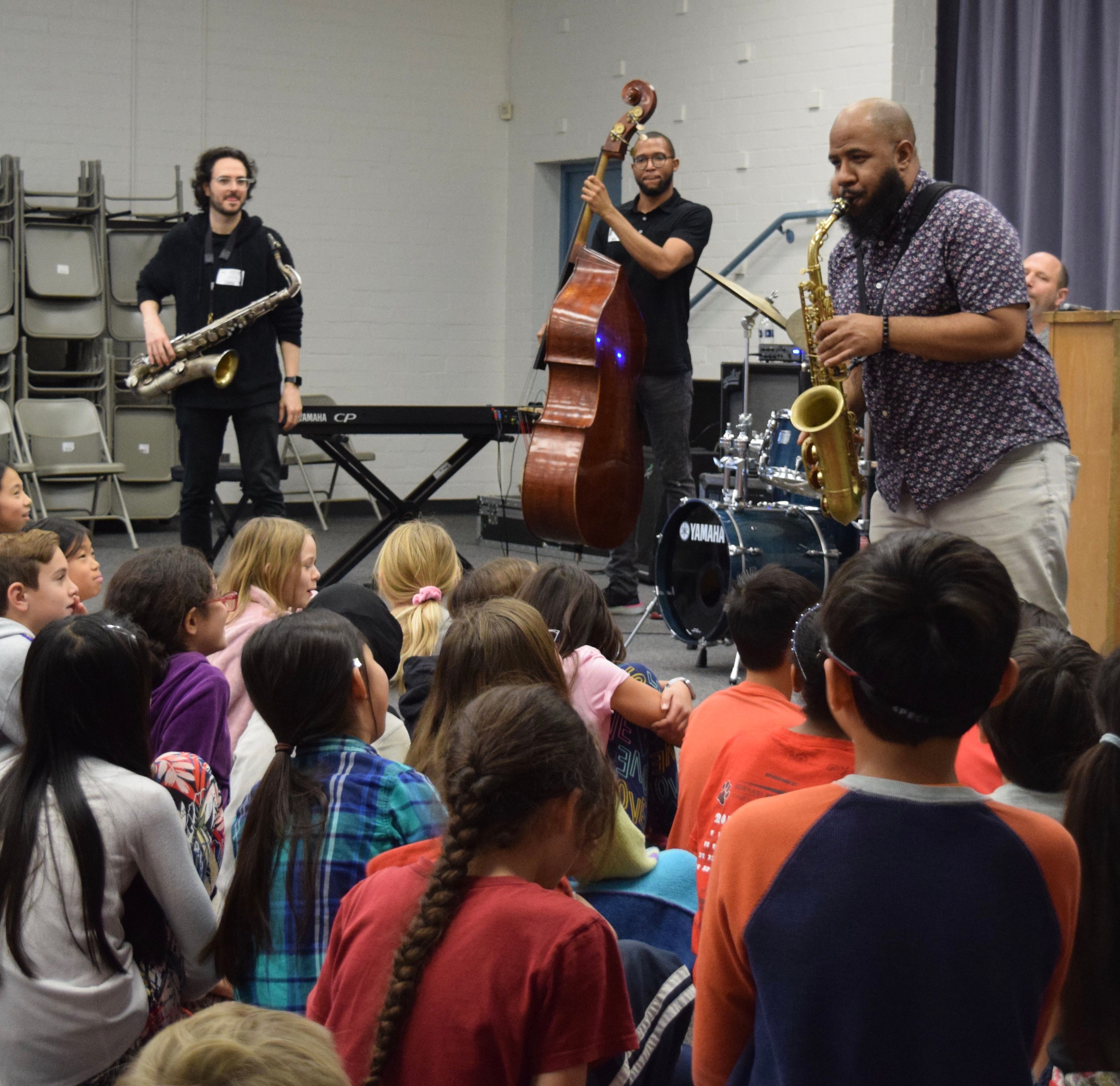 For over 10 years the Barclay has invited the JazzReach organisation to visit local schools to introduce students to jazz via their 'Jazz:Up Close' workshops.
This year 1100 Elementary and Middle School Students from University Park Elementary, Culverdale Park Elementary, Cadence Park K-8 and Sierra Preparatory Academy participated in 10 assembly/workshops led by the Metta Quintet from JazzReach on 28 - 31 January, 2020. 
The Metta Quintet features some of the best jazz musicians in New York City, who come together to perform for the students. In many cases this is the students' first live jazz music experience. The quintet  are very interactive and immediately get the kids involved by encouraging them to make observations: about what they are hearing and the different roles each musician has in the group. They introduce the concepts  of solos, improvisation and the fundamental pillars of music: Melody, Harmony and Rhythm.  
This year we brought JazzReach to a group of schools that have populations with widely differing  cultural and economic backgrounds. Each group of children arrived with a different musical experience but it was clear that many kids could play an instrument in the classical style. They found it interesting to think about playing without using music in front of them. One of their favorite activities was a 'call and response' exercise where the saxophonists would play a phrase and kids would sing it back to them. 
Some comments from kids at Cadence Park K-8 School in Irvine:
"I thought it was really cool that they could teach kids that are learning classical mostly that music can be more open. Instead of just 'here's one note and there's another note' you can make your own kind of music on the spot."
"I liked how one saxophone started playing a measure and then they all just start playing at the exact same time - they just know!"
"One life lesson I learned is that you always have to be bad at something first before you start to get good at something."
"Because they practiced and played as a team they were so coordinated."
The week of workshops in schools culminated in a performance at the Barclay on Friday, January 31, 2020: 'JazzReach: Con Alma y Fuego: A Celebration of Latin Jazz' at The Irvine Barclay Theatre