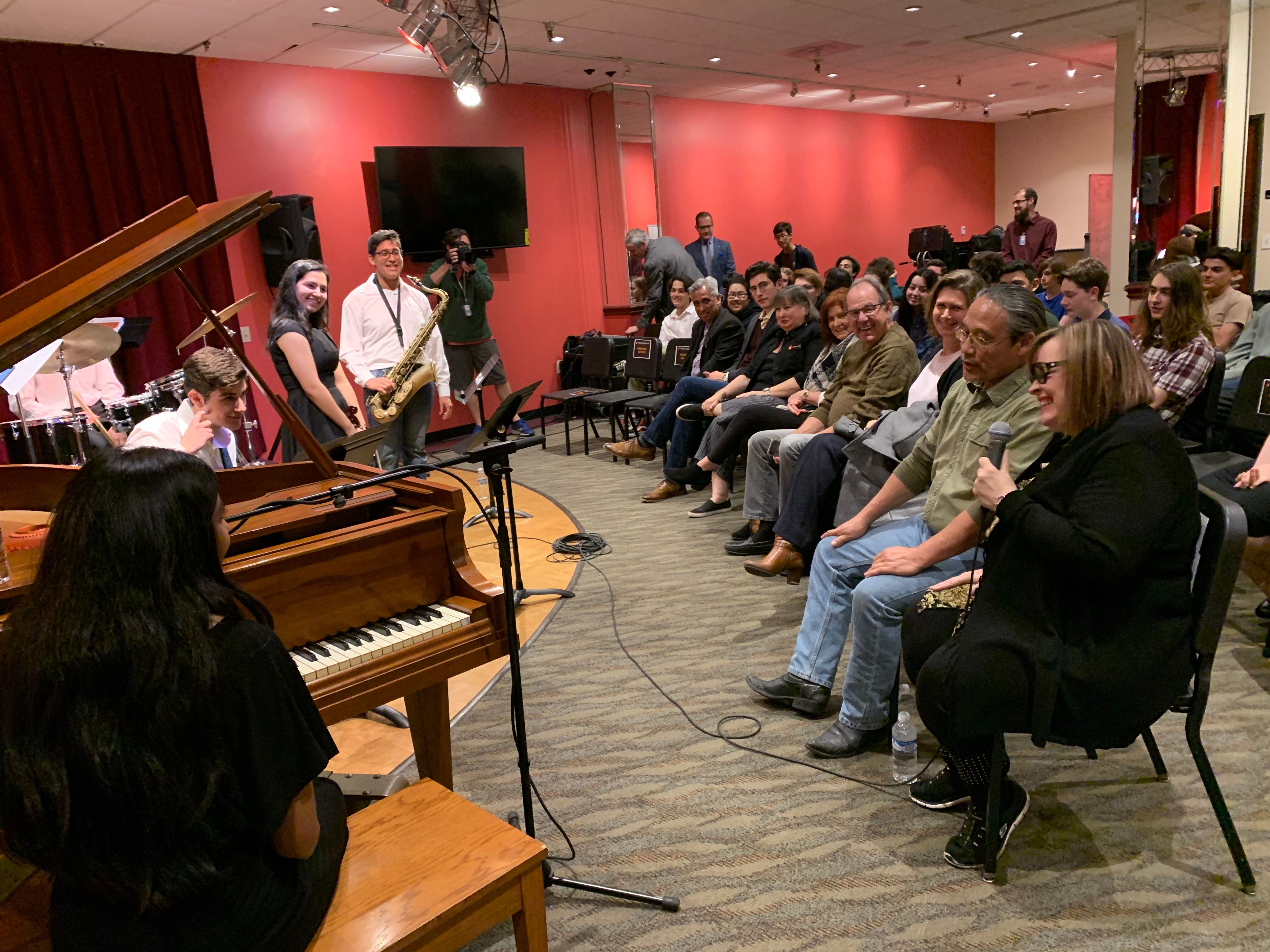 40 High School Students from the OSCA Instrumental Music, Popular Music, and Classical Voice conservatories participated in a Master Class with Diane Schuur on Thursday, January 9, 2020 at the Margaret A. Webb Theatre, Center for the Arts, at the Orange County School of the Arts in Santa Ana.
After introductions by OSCA Dean of Arts, Maria Lazarova, and OCSA Conservatory Director, John Reynolds, Ms Schuur performed an opening song at the piano. She then took a seat in the audience to listen to the OSCA Jazz Students perform the following:
○ Lullaby Of Birdland - Sidra Villacorta (Popular Music, Grade 11)
○ Cry Me A River - Carolina Harrison (Guitar, Grade 11)
○ Straight No Chaser - Claire Serrano (Popular Music, Grade 12)
After hearing the first number, and giving the students a helpful critique, she couldn't resist joining in and went on to duet with the next two singers. Diane was keen to take questions from the students and gave some insightful and helpful advice based on her own experience. She emphasised the importance of keeping alive the great American, artform of  jazz and she talked about the necessity of passing on the torch to the next generation. A recurring piece of advice to the students was to 'Listen to the greats'.
The event ended with a performance of 'Running on Faith' from her new album.
Comments from the OSCA High School Master Class participants:
"This was the most engaging master class I've ever been a part of. It was so fun getting to interact with Diane Schuur during our performances. It was fascinating to learn from her on the spot as we sang together"
"Ms. Schuur is such an inspiration and I loved observing this class. I feel so lucky to be exposed to modern and contemporary forms of jazz from the best expert there is"
This master class proceeded Diane Schuur's show at the Irvine Barclay Theatre on Friday, January 10, 2020. 
OSCA Master Artists Program 
Orange County School of the Arts (OCSA) delivers on its mission to provide an unparalleled arts and academic education to a diverse student body passionate about the arts through its 2019-2020 Master Artist Series. In addition to the school's 16 arts conservatories, these unique programs provide students the opportunity to learn from real-world experts in a variety of industries. Acclaimed artists, educators and industry leaders visit OCSA's campus in Santa Ana to share their expertise and provide students with exclusive advice through demonstrations, residencies, panel discussions, master classes and more.
ArtsReach Program 
The ArtsReach Program at the Barclay aims to deepen the experience of our audience by providing additional lectures, open rehearsals, masterclasses and workshops with the artists we present. By developing partnerships with local organizations we engage new audiences from the local community as well as providing unique experiences for our regular patrons. We bring 80 of the finest performers in their art form to Irvine each year and we aim to benefit as many local communities as possible. 
Organizer: Catherine Dickinson, Irvine Barclay Theatre and  Quinn Barraza, OSCA