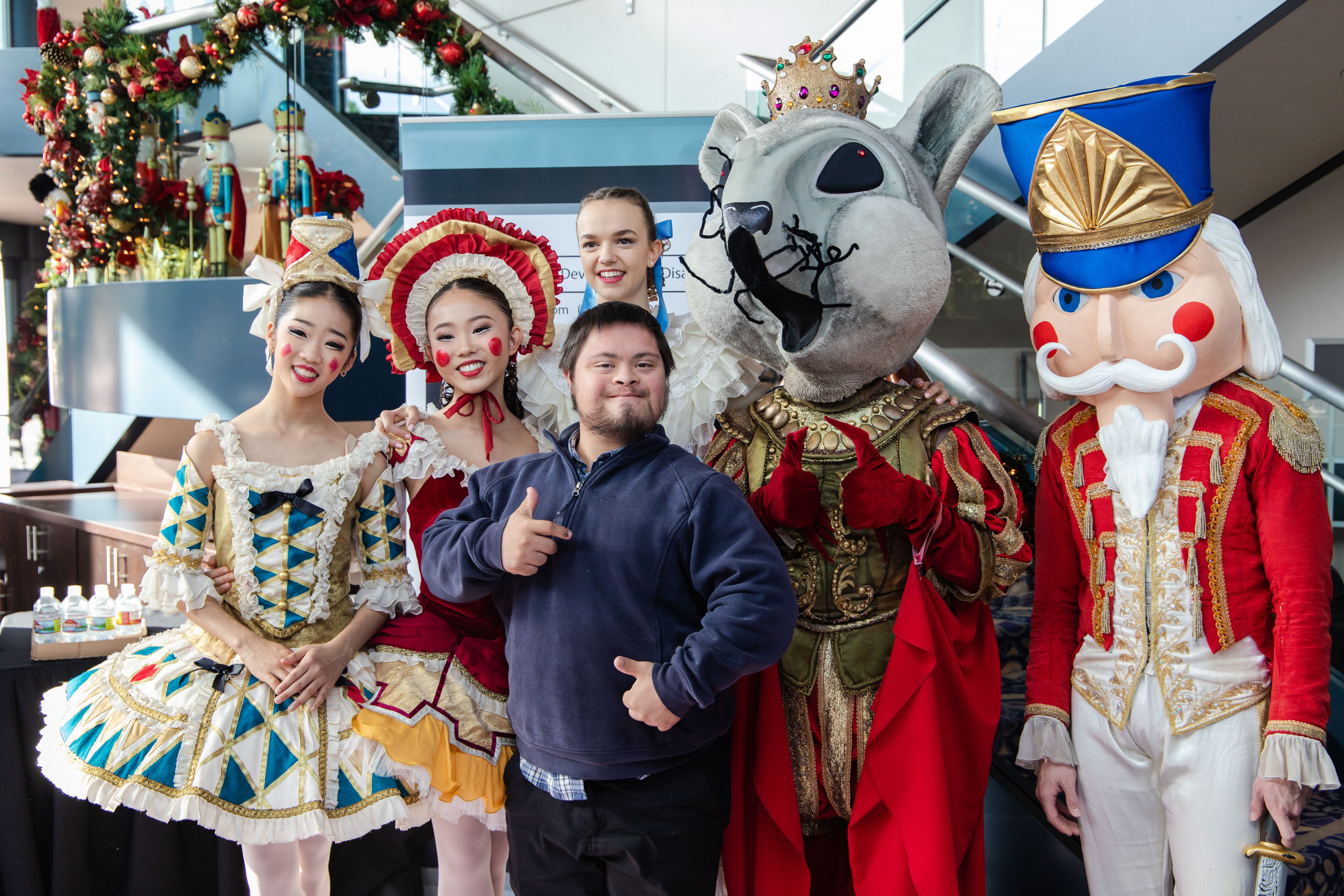 136 guests from the Regional Center of Orange County Adult Day Service Programs were invited to attend a Holiday Open House at The Barclay on the morning of Tuesday, Dec 17, 2019. Individuals with developmental disabilities and their  program leaders attended representing many organizations including ABLE Day Program, Easterseals, Dreams of America, PRIDE Day Program, Adult Program Services, Elwyn Adult Day Program, Independent Endeavor, Adult Enrichment Center and Continuum Day Program.
The students were welcomed by President, Jerry Mandel, and Community Outreach Coordinator, Catherine Dickinson, before watching a performance of holiday songs by Woodbridge High School a capella choir in the Barclay auditorium. The audience were then treated to a telling of the Nutcracker story by Elizabeth Farmen and a dance performance by five of the Festival Ballet Theatre cast. The audience then had the opportunity to ask questions about the ballet. The event was rounded off with cookies in the lobby and the Nutcracker dancers posed for photos with our guests, before they left with a festive gift bag. 
This event was a collaboration between RCOC and The Barclay. We worked with Kathleen McFarlin, Larry Landauer and Andy Weiser to organise this event. The original idea came from Liza Krassner, Irvine Barclay Theatre Board Member and RCOC Board Member. Liza works for UCI Public Health and was at the event representing UCI Health. 
This ArtsReach event is part of The Barclay's program to reach out to new audiences.
Regional Center of Orange County is one of 21 private, nonprofit organizations contracted by the State of California to coordinate lifelong services and supports for individuals with developmental disabilities and their families. The Regional Center is the first stop for those seeking to obtain local services and supports to help them live safely and with dignity in the community. RCOC serves more than 22,000 Orange County residents with developmental disabilities and their families. Developmental disabilities include autism, epilepsy, cerebral palsy, and intellectual disabilities.
Adult day program services provided through RCOC are as diverse as the people who receive them. Work-focused programs help adults with developmental disabilities to earn a paycheck; people may work side-by-side with typical peers, receiving assistance from a "job coach" who helps them be successful on the job, or they may choose to perform volunteer work in the community, or combine paid work with volunteering. For those who wish to continue their education, adult education is an option that is often provided through nearby community colleges. In addition, a wide range of adult programs focus on building life skills for independence to help the person with disabilities live a more integrated and productive life in the community.
Event Partners: 
Regional Center of Orange County, 
Woodbridge High School, IUSD
Festival Ballet Theatre 
Organizer: Catherine Dickinson Dec 2019, Irvine Barclay Theatre