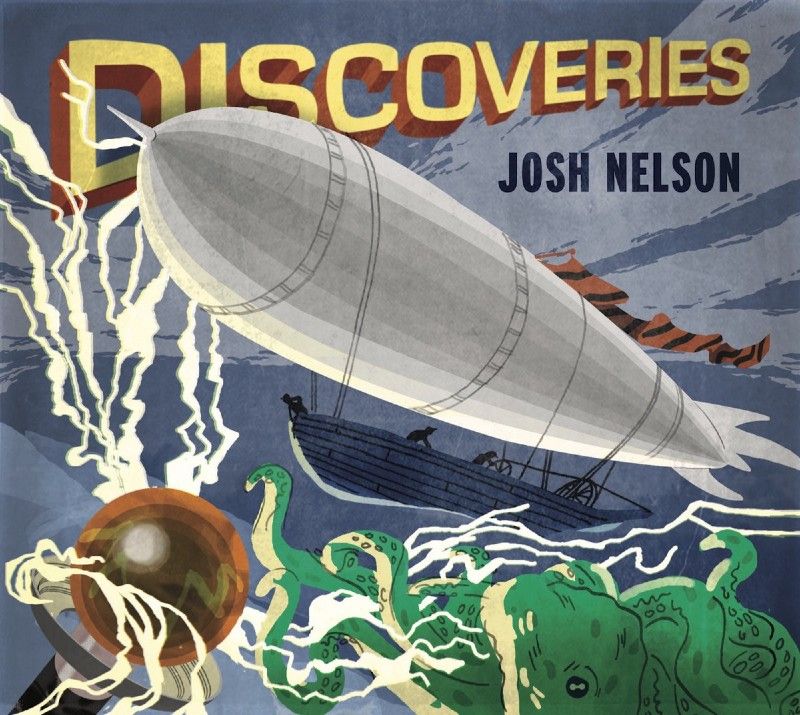 Pianist-composer-bandleader Josh Nelson has performed with some of the most respected names in jazz, including Kurt Elling, John Pizzarelli, Benny Golson, Sheila Jordan, George Mraz, Dave Koz, Joe Chambers, Peter Erskine and has toured with legendary vocalist Natalie Cole for six years. In addition to releasing seven CDs as a leader, he has recorded on countless albums, films and TV shows. 
The Discovery Project Live in Japan 
2020.  A compilation of Discovery Project songs, recorded live from the Kobe Modern Jazz Club in Japan.  Featuring: Josh Nelson: piano; Alex Boneham: bass, acoustic; Dan Schnelle: drums.
"Some of the selections on this album appeared on earlier records of mine. "Mint Blues" was from my 2009 I Hear a Rhapsody album, written for band that performed regularly at The Mint club in Los Angeles. "Reflections" is one of my favorite Thelonious Monk compositions, and it's my first time recording it. I always loved the version by Joe Lovano from his Live at the Village Vanguard record from the mid 90s. "Atma Krandana" first appeared on my 2011 Discoveries album, and it's an exploration of the Hindu concept of "the crying of the soul." "Dirigibles" was also on Discoveries, and is a tribute to the floating airships of the early 20th century. "Kintugi" is a new composition; I was intrigued by this Japanese word which loosely translates to "something being stronger for having been repaired after being broken." I composed "Introspection on 401" on the 401 highway in Canada many years ago, on a misty and mysterious morning; I continue to perform this song often. It's from one of my early albums, 2006's Let it Go." - Josh Nelson
"…Nelson is a creative force to be reckoned with." (All About Jazz – Read Full Review) 
The Sky Remains
2017. The Sky Remains is Josh's love letter to Los Angeles. The third in his Discovery Project series, it unearths hidden gems and little-known stories about the composer's hometown. Featuring: Josh Nelson (piano), Kathleen Grace (vocals), Lillian Sengpiehl (vocals), Anthony Wilson (guitar/co-producer), Chris Lawrence (trumpet/flugelhorn), Josh Johnson (alto sax/flute), Alex Boneham (bass), Dan Schnelle (drums), Aaron Serfaty (percussion), Larry Goldings (B3 organ).
The Sky Remains blends narrative and music in persuasive fashion. Throughout this ambitious outing, Nelson and his talented crew of fellow Angelenos convey sentiment about the city and its treasures while uncovering lost history and acknowledging a few L.A. icons along the way.

"I'm definitely in awe of what's in this city and its quiet history. Maybe it's just a product of having been born here, but I'm discovering new things and stories about it that were just sitting right under my nose. And I'm hoping that people who hear these stories might be interested in learning more about the fascinating history of Los Angeles."  - Josh Nelson
"Wonders never cease here, as Nelson's imagination carries us to unexpected places and uncovers topics and stories hidden in the mists and mortar of Los Angeles."  (All About Jazz – Read Full Review)
Dream in the Blue
2016. Josh's long collaboration with vocalist Sara Gazarek has resulted in an intimate and beautiful duo project, featuring soulful cover tunes and new original music. Recorded and produced by the legendary Al Schmitt.
"On Dream In The Blue, Gazarek and Nelson alternately elicit tears of joy and sorrow by moving from escape to reality, heaven to earth, and mirth to melancholy, reaffirming their collective position as one of the most arresting voice-and-piano pairings out there in the process." (All About Jazz – Read Full Review)
Exploring Mars
2015. Josh Nelson's sixth recording as a leader, and second in the Discovery Project series, where he ambitiously explores themes on the red planet with a stellar band. Featuring: Josh Nelson (piano, Nord Electro 3 HP, trumpet), John Daversa  (trumpet and EVI), Larry Koonse (guitar), Dave Robaire (bass), Dan Schnelle (drums), Alan Ferber (trombone), Brian Walsh (bass clarinet), Kathleen Grace (vocals).
"In the middle of all this sits what amounts to the most gorgeous of pop songs: "How You Loved Me On Mars," co-written by Nelson and vocalist Kathleen Grace. Produced and arranged to perfection, it sounds like something that might have been written by Joni Mitchell teamed with Paul Simon: smart, dreamy and off-kilter with a heartfelt vocal by Grace, with a thoroughly engaging melody, this should be on the radio racking up the sales." (All About Jazz – Read Full Review) 
Discoveries
2011. Josh's first album in The Discovery Project series, inspired by themes from science and science fiction. A musical look into the world of science fiction, early cinema and inventors. Nostalgia meets modern on this inspired recording. Featuring Dontae Winslow (trumpet/flugelhorn), Alan Ferber (trombone/arranger) Brian Walsh (bass clarinet), Larry Koonse (guitar), Dave Robaire (bass), Dan Schnelle (drums), Vanessa Robaire (vocals).
 "This record was definitely inspired by some of my childhood and ongoing obsessions with early sci-fi steampunk imagery that comes out of Jules Verne's writing, H.G. Wells' writings and movies like The Time Machine, which is based on Wells' book, and 20,000 Leagues Under the Sea, based on Verne's book. And I'm trying to manifest all that stuff into basically a jazz record, more or less." - Josh Nelson
"Nelson's writing is modern, in the here-and-now, and crafted with a broad harmonic vocabulary that helps to create a rich musical mélange to fire the imagination." (All About Jazz – Read Full Review)
I Hear a Rhapsody
2009. Josh's fourth album as a leader, strong statement of melodies, arrangements and virtuosic performances by a young all-star band. Featuring Ben Wendel (tenor sax/bassoon), Tom Catanzaro (tenor sax), Charles Altura (guitar), Hamilton Price, Sam Minaie (bass), Kevin Kanner, Zach Harmon (drums).
"I Hear a Rhapsody is a tour-de-force, displaying Nelson's many talents." (All About Jazz – Read Full Review)
Let It Go
2006. Let It Go is the third studio album by Josh Nelson and was hailed by Jazz Times, All About Jazz and Jazz Review as a fully-realized breakthrough album. He is backed up by a stellar group featuring Seamus Blake (tenor sax), Anthony Wilson (guitar), Darek Oles (bass), Matt Wilson (drums), Sara Gazarek (vocals on "Leaving Here").
"… there's the music that soothes the soul and eases the mind into contemplation. Music that somehow has the ability to draw a beautiful line around silence allowing the listener to forget the noise from all around. That's the kind of music Josh Nelson makes." (All About Jazz – Read Full Review)
—Jerry
#JerrysListeningList