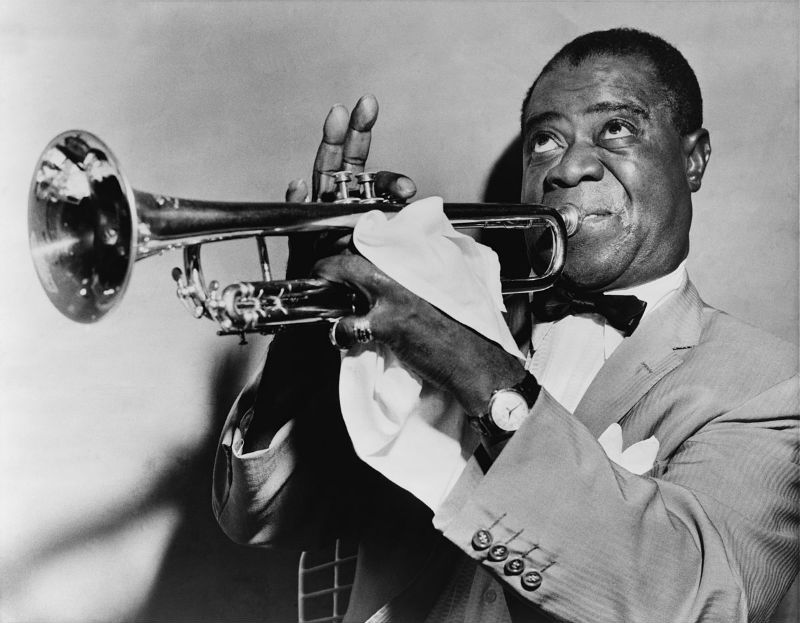 Triumphant Trumpets ⁠— A 100-Year Retrospective
The shadow of Miles Davis is long over the history of jazz trumpet, which is why I've previously featured Miles on my listening list.  But there are so many other outstanding trumpet players in so many different styles of jazz. To touch on even a few of them would take a while. To help out, I've decided to take a walkabout through jazz trumpet history over the course of the next three weeks, sharing with you some of my favorite players and recordings.
Part 1 of 3 – Coming out of the collective improvisation of jazz from New Orleans, trumpet soloists begin to step out in front of the band.
Birth of the Trumpet Soloist
Louis Armstrong once remarked, "Lots of cats tried to play like Bix; ain't none of them play like him yet."
"Fidgety Feet" (1924) – Bix Beiderbecke and the Wolverines
"Fidgety Feet" is a Dixieland jazz standard, first recorded by the Original Dixieland Jazz Band in June 1918. The more acclaimed version is this 1924 recording by The Wolverines, with Bix Beiderbecke.
"Riverboat Shuffle" (1927) – Bix Beiderbecke with the Frank Trumbauer and his Orchestra
This popular song composed by Hoagy Carmichael, Irving Mills and Dick Voynow, and with lyrics added later by Carmichael and Mitchell Parish would become a Dixieland standard. Beiderbecke recorded this second version of the song in 1927 (first version in 1924) with Frankie Trumbauer and His Orchestra.
"You can't play anything on a horn that Louis hasn't played," Miles Davis said.
"Dippermouth Blues" (1923) – King Oliver's Creole Jazz Band   
"Dippermouth Blues" is a song first recorded by King Oliver's Creole Jazz Band in April 1923. It is most often attributed to Joe "King" Oliver, though some have argued that Louis Armstrong was in fact the composer. This is partly because "Dippermouth," in the song's title, was a nickname of Armstrong. The song is a strong example of the influence of the blues on early jazz.
Armstrong plays second cornet on the April 6, 1923, recording, with Honoré Dutrey on trombone, Johnny Dodds on clarinet, Lil Hardin on piano, Baby Dodds on drums and Bill Johnson on banjo and vocal. Oliver's plunger mute solo on first cornet became one of the most frequently-imitated solos of his generation.         
"Money Blues" (1925) – Fletcher Henderson Orchestra    
Recorded in New York City on May 19, 1925 with the Fletcher Henderson and His Orchestra, this song was written by David Kapp, G. M. Coleman and Harry Eller.                   
Louis Armstrong in Copenhagen – 1933
The Copenhagen visit is remembered because it was the first time Armstrong was ever filmed in concert. The Danish director Holger Madsen recruited Armstrong to appear in his feature film København, Kalundborg og - ?
The performance was filmed on October 21, 1933 at the Lyric Park. There was no audience in the theater during the filming. The shots of people applauding were made at a different time and spliced into the scene. Armstrong and his band play three songs: "I Cover the Waterfront," "Dinah" and "Tiger Rag." The nine-man band includes Armstrong on trumpet and vocals, Charles D. Johnson on trumpet, Peter DuCongé on clarinet and alto saxophone, Henry Tyree on alto saxophone, Fletcher Allen on tenor saxophone, Lionel Guimarez on trombone, Justo Baretto on piano, German Arango on bass and Oliver Tines on drums.
"What Louis Armstrong Really Thinks" 
Swing Era Voices
"Heckler's Hop" (1937) Roy Eldridge & His Orchestra
"'Heckler's Hop' is recommended for fans of swing-era jazz and is essential for fans of jazz trumpet." (AllMusic)
"Rockin' Chair" (1941) Roy Eldridge with Gene Krupa
Composed by Hoagy Carmichael; arranged by Elton Hill. Recorded by Gene Krupa and His Orchestra on July 2, 1941 in New York City.
"Concerto for Cootie" (1940) Duke Ellington and Cootie Williams
The Duke Ellington Orchestra recorded "Concerto for Cootie" on March 15, 1940. It was especially written for his trumpet player, Cootie Williams.
"Echoes Of Harlem" (1944) – Cootie Williams Orchestra
"Echoes of Harlem," also known as "Cootie's Concerto," is a 1936 composition by Duke Ellington. It has been cited as one of Ellington's "mood" pieces.
This performance was filmed in Town Hall, London in 1964 and features Harry "Sweets" Edison, trumpet; Sir Charles Thompson, piano; Jimmy Woode, bass; Papa Jo Jones, drums.
This is Edison's live recording at The Haig Club in Los Angeles in 1953 with his quartet featuring pianist Arnold Ross, bassist Joe Comfort and drummer Alvin Stoller.
Bebop Arrives and Thrives
Dizzy Gillespie Quintet with Charlie Parker, Live at Town Hall, NY, June 22, 1945
This is a landmark concert for bebop aficionados. Released for the first time in 2005, this live recording at New York's Town Hall of the Dizzy Gillespie Quintet featuring Charlie Parker showcases revolutionary bebop. Gillespie and Parker are the architects of bop playing, and are at the height of their powers. Featuring such classic bop anthems as "Bebop," "A Night in Tunisia," "Groovin' High," "Salt Peanuts," and "Hot House." The album features Don Byas (saxophone), Al Haig (piano), Curley Russell (bass) and Max Roach (drums). A sublime partnership and dazzling improvisational risk-taking. 
Interview with Dizzy Gillespie 
Clifford Brown and Max Roach
This 1954 album is one of the greatest jazz albums ever made. It's bop at its very best. The album was inducted into the Grammy Hall of Fame in 1999. The album features "Delilah" (the Victor Young theme song for the Cecil B. DeMille film Samson and Delilah), "Parisian Thoroughfare," "Daahoud," "Joy Spring," and "Jordu." "Daahoud" and "Joy Spring" have since become jazz standards. The song "Joy Spring" was composed by Brown in honor of his wife, whom he called his "joy spring." 
"Clifford Brown: A Short Life Well-Lived"  
—Jerry
#JerrysListeningList