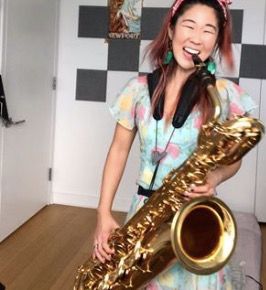 Does your family need some inspiration for 'stay at home' weekend activities? Just take a look at what some of our favorite artists are doing. Although gigs and live performances are temporarily on hold, artists are finding really creative ways to reach out and connect with us in our living rooms. We pick a few fun activities you might like to try this weekend:
For musicians who can't sit still: 
Check out the fun ways Grace Kelly is spending her time.  As well as livestreaming performances and conducting workshops, we really love the way she is combining her daily workout with her saxophone practice. 
Grace Kelly is a young, cutting edge saxophonist who was a huge hit at The Barclay when she visited in 2018. As well as entertaining our jazz regulars, she invited a full house of elementary kids to watch her soundcheck. They loved  her charisma, energy and crazy hair!
'In a time of crisis I think artists have a great opportunity to connect and to almost be 'emotional pillow cases'.  I think we really really need it.' Grace Kelly 
How to find Grace online:
Grace Kelly Music Website, @gracekellymusic Facebook, @gkellymusic Instagram, Grace Kelly Music YouTube , Grace Kelly Spotify
 
If you want to keep singing:
The Wailin' Jennys Cover Challenge 
We can't wait to hear you all singing along at the The Wailin' Jennys show at The Barclay next year. In the meantime, why not record a cover of your favorite Jennys song? The girls want you to sing your heart out, upload the video then tag #wailinjennyscoverchallenge and the band themselves @thewailinjennys so we can all enjoy these new interpretations.
Our favorite so far is this version of 'Glory Bound' written by The Wailin Jennys and performed by Louise Courtney but there are hundreds to explore….Don't forget to tag @irvinebarclay so we can see it too!
For teens with big plans:
The Mendelsohn Electric: A Teenage Dream in F Major 
Trusty Sidekick Theater Company describe their productions as small-batch, high quality, original theater for young audiences and their families. This weekend they are streaming The Mendelssohn Electric  "for the young dreamer in all of us screaming "Yes!" when the world is shouting, "No!"  
The show follows Fanny Mendelssohn; composer, musician, and older sister to acclaimed composer Felix Mendelssohn. Fanny has big dreams of publishing her own compositions for the world to hear, but is 19th Century Germany ready for a female composer even if she's equal in  talent, composition, and criticism? 
For little kids who love to dance:
This week's Sidekick Studio shows you how to 'Make a Squirrelly Dance' using just your body and a lemon squeezer!  Squirrells in the kitchen - what could possibly go wrong?
( Not just for kids! )