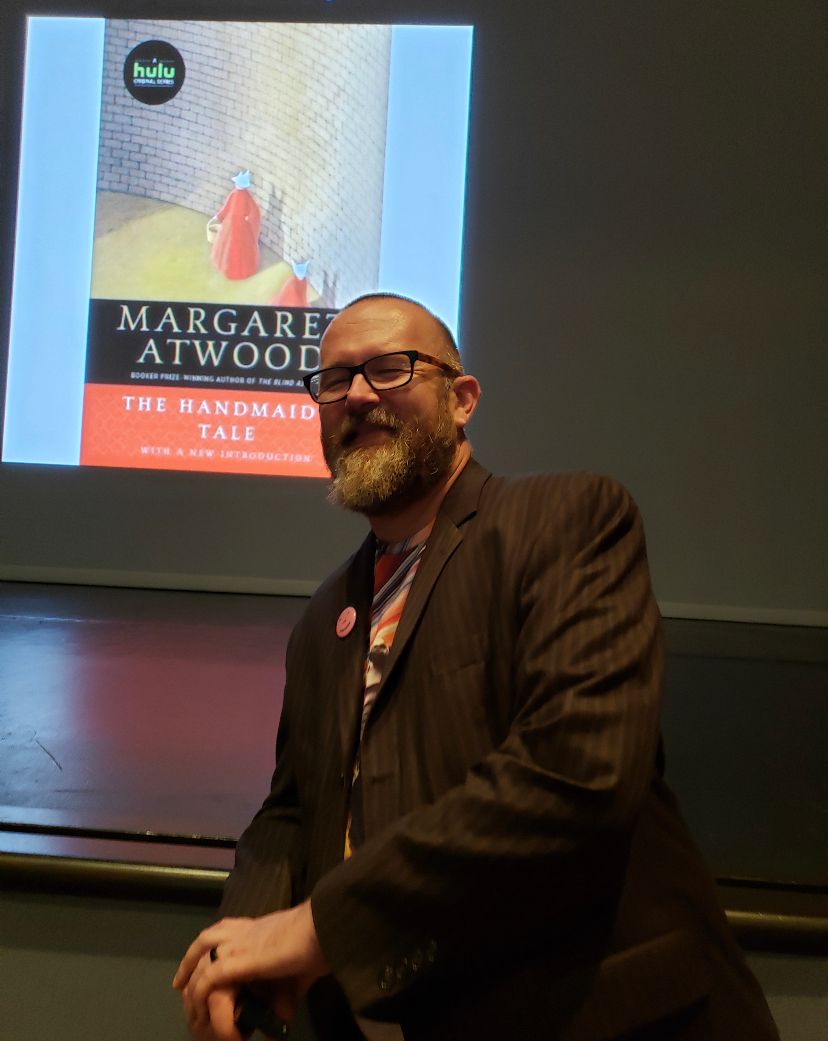 75 people attended the pre-show lecture "Practicing the Future: Margaret Atwood's Work in Text and on Screen" presented by Prof.Jonathan Alexander. Jonathan is UCI's Association Dean for Undergraduate Education and the Chancellor's Professor of English and Informatics. 
Jonathan's lecture examined Margaret Atwood's 'The Handmaid's Tale' in the context of presentations of science fiction in the second half of the 20th century, in particular the presentation of women. 
The event took place at the Irvine Barclay Theatre on Tuesday, October 15, 2019 at 6-6.30pm at The Barclay before the screening of Margaret Atwood: Live In Cinemas
Prof. Alexander  has published a number of critically acclaimed books on gender and sexuality, young adult fiction, and rhetoric. Additionally, his articles on technology's involvement in modern society have won three Ellen Nold Awards for Best Articles in the field of Computers and Composition Studies, as well as the Charlies Moran Award for Distinguished Contributions to the field of Computers and Writing Studies. Here at UCI, he teaches young adult fiction, graphic novels, and science fiction.
Prof. Alexander is currently researching the types of literature millennials are pursuing, which include creative writing, poetry, podcasts, stand-up comedy, and even fanfiction. One of the most fascinating fanfictions he is studying right now are how fans incorporate autism into the Wizarding World of Harry Potter. How does Hogwarts make accessible to students diagnosed with autism? Is autism a type of magic on its own? Professor Alexander is curious to find out! He encourages fanfictions that explore these topics of diversity and mental health. 
A number of audience members commented that they enjoyed the lecture and valued the added element to the evening's screening.