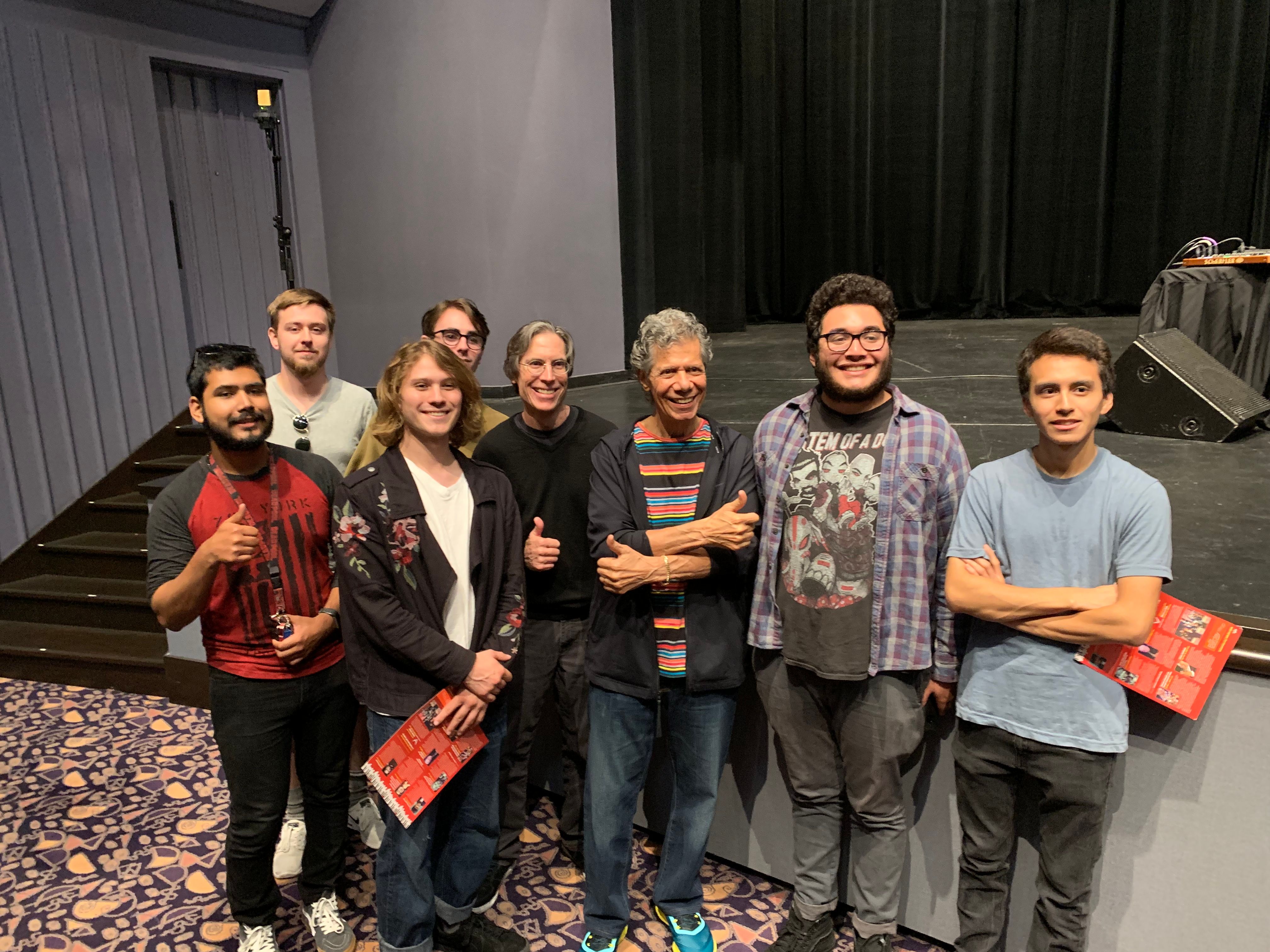 90 Advanced Jazz Students from local universities, community colleges, IUSD High Schools and a local private jazz academy were invited to attend the Chick Corea: Trilogy Sound Check and Q&A at the Irvine Barclay Theatre on Friday, October 4, 2019 before the evening performance. The largest groups were from UCI Claire Trevor School of the Arts, Fullerton College and Long Beach City College.
The students were welcomed to the Barclay by President  Jerry Mandel before watching Chick Corea, Christian McBride and Brian Blade set up and rehearse on stage. Chick Corea chatted with students after the sound check and posed for photos. The students were also introduced to some of the Barclay Technical Team: Audio Supervisor: Jimmy Kerry, Lighting Supervisor: Natalie DeFusco and Michelle Brouwer: Executive Assistant to the President and Director of Special Projects. They talked about their roles in putting together the show and their career paths so far. 
Feedback from the Attendees:
May Asai - Long Beach City College Jazz Student 
I loved the combination of observing the rehearsal and getting to attend the event . To experience behind the scenes is something you can't buy with money. Thank you so much to put such a great show together and opportunity for us! 
Connie Mao - Parent of SoCal Jazz Academy Student 
We enjoyed the sound check. My son found it interesting watching Jimmy check sound after giving an explanation of what he does. And of course hearing Chick Corea run through songs was amazing!! We weren't expecting him to actually play some of the pieces so that was a treat.
 
Gary Matsuura -  Director of the Chapman University Saxophone Ensemble and Irvine Valley College Saxophone Instructor
I enjoyed everything about the event. I thought the message of Jerry Mandel in the lobby was very informative. It gave the students an excellent view of the realities of being a jazz musician, but also giving them information about alternative job opportunities within the field of music. The presentations of Jimmy, Natalie, and Michelle were excellent. 
Thank you, Jerry Mandel and the Irvine BarclayTheatre team, along with the generous donors for bringing world-class performing artists to Irvine. Another reason to live in this great city! There is no reason to go to New York City in search of great performances!
Timothy Hall, Director of Woodwind and Brass Studies, Hall-Musco Conservatory of Music, Chapman University
Thank you for this event.  I think I was more excited than my students. I have been listening to him since 1976.  It was great that I got a chance to meet him and thank him for all the years of great music.