In the Spotlight: Beth and Brian West
We recently had a chance to catch up with Beth and Brian West, longtime patrons and supporters of Irvine Barclay Theatre, about their love for the performing arts and the Barclay.
Irvine Barclay Theatre (IBT): How did you first become involved with the Barclay?
Brian: Arlo Guthrie is responsible for introducing me to the Barclay. He booked a show and, as a fan, I followed and discovered a new theater in OC. I fell in love with the Barclay and keep returning.
Beth: Brian is responsible for introducing me to the Barclay.  I am certain it was music...since live music is our go-to type of performance.    
B&B: Now we are simply active patrons who've grown to appreciate the variety of performances the Barclay makes available. Honestly, we would not have known about or seen Jake Shimabukuro this year without the Barclay. There is always something new to experience here.
IBT: How is the Barclay important to the community?
B&B: We are so very lucky to have this intimate, first-class theater in our neighborhood. The quality and genre of shows presented each year is unmatched. The other Orange County theaters, all wonderful on their own, are much larger, genre-specific, or limited in some capacity. We've learned about the Barclay's outreach into the community and appreciate how exposure to the performing arts can change lives. And, what's not to like about the proximity of parking to the theater?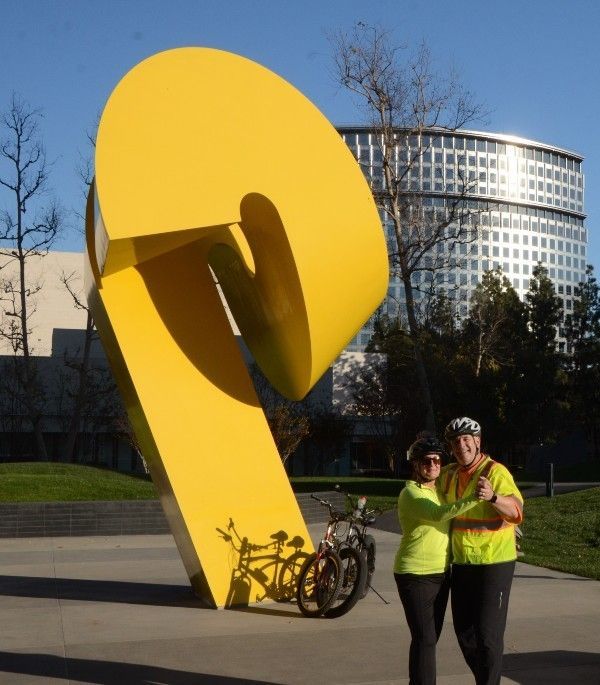 IBT: What are your backgrounds in the performing arts? How have they influenced your involvement with the Barclay and the local performing arts community?
B&B: With complete exaggeration, both of us performed in some of the biggest plays ever!  Starting with The Wizard of Oz (Beth, age 7, as a poppy in community theater), our resumes top out in high school with Our Town (Beth as Emily), Arsenic and Old Lace (Beth as Abby Brewster), Bye Bye Birdie (Brian as a stagehand), and Romeo and Juliet (Brian as Tybalt and the dead Romeo). 
Brian: Hey! I got the kiss and didn't have to memorize any lines for that scene!
B&B: We both share a love for the performing arts. We're humbled to be around people who are more talented and dedicated to the arts than we can ever be. The Barclay allows us to share the arts with friends and family in a friendly environment where, as the Cheers theme song says, "everyone knows your name."
IBT: I think you hold the record for attending the most shows of all our patrons this year. Thank you! We're delighted to see your smiling faces so often. What were your favorite performances this season?
In no particular order, the shows we talk the most about are Trio Barclay, Storm Large, Complexions Contemporary Ballet: Stardust, Black Market Trust, Jake Shimabukuro, The Fabulous Thunderbirds, and Renee Fleming.
IBT: Do you have a favorite Barclay memory?
Brian: Honestly, there have been so many great experiences, it's hard to choose just one. Tops for me is bringing my mom to see Arlo perform Alice's Restaurant. Mom was in her late-80s and knew the song's story line. We had such a good time. It was a gift to be able to share that with her.
Beth: This year, it has to be meeting the entire Barclay team. They are the ones who make our theater sing, dance, and come alive for each show.
IBT: What do you do for fun, other than attending the Barclay?
B&B: We're travelers! We go to Indy for the 500 and then side trip somewhere new and interesting. We like to visit state capitals – 33 to date. They are the best museum and art gallery destinations for telling the stories of each state. The pandemic kept us home, so we "traveled" by bike. The photo we shared was taken in Costa Mesa in the early months of the pandemic. The roads were empty, and we could ride almost anywhere...and we did!
IBT: What is the legacy you hope to leave through your support of the Barclay?
B&B:  We're not really looking to leave a legacy, per se. We are pay-it-forward types. We started our Barclay support as rainmakers, contributing a little by rounding up each ticket purchase. If someone reads this and starts their own rainmaking habit, then our paying-it-forward worked!
Our greatest hope is that the Barclay is successful in its mission of making the performing arts accessible to everyone – kids and adults from all areas of our diverse community. We brought our kids when they were young, and they are now avid patrons of theater and music.
We will never know how our raindrops will affect someone else's experience.  That is the beauty of paying-it-forward.

Thank you, Brian and Beth, for your record-breaking patronage, your commitment to the Barclay and the difference you can make in our community together. Generous, pay-it-forward philanthropists like you make our work possible. It's our honor to share the joy and beauty of the performing arts with you, your friends and family. We value your continued support and look forward to enjoying performances with you at the Barclay for many seasons to come!
Please click here to return to the May 2022 Newsletter Table of Contents.