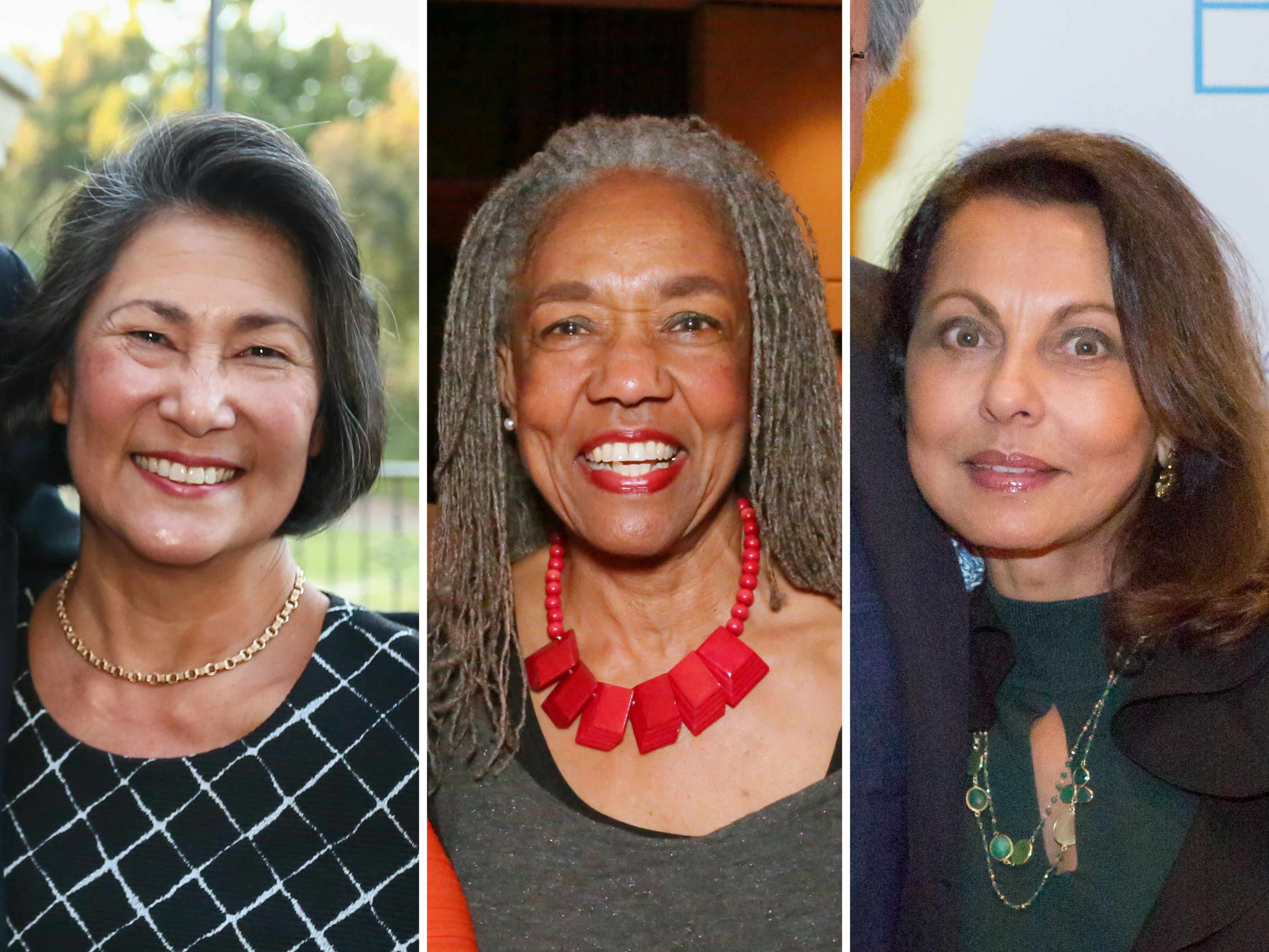 The heart of Irvine Barclay Theatre is our community. Support from loyal patrons, generous donors, trusted board members and enthusiastic volunteers makes what we do possible. Today, we want to introduce four very special members of the Barclay family: our volunteer Barclay Ambassadors! Lynne Ramsey, Cindy Thomas, Mary Watson-Bruce and Anita Watumull are all Orange County residents who've gone above and beyond to serve the Barclay and its legacy of presenting world-class artists at affordable prices and providing enriching arts education for students of all ages and abilities.
Lynne and Cindy have been attending performances at the Barclay for several years and are the founding members of the Barclay Ambassadors. Drawn to the Barclay's eclectic programming and intimate size, Cindy felt that it was important to take initiative to support the theatre. She notes, "The Barclay presents a wide range of arts entertainment in a great setting and at a price that allows a wide range of residents to have exposure to and enjoy the arts." When Lynne first moved to Orange County in 2008, she immediately loved that "the [City of Irvine and UC Irvine] collaborate on this amazing theatre in our neighborhood." She especially appreciates that "the Barclay is a place you can connect with creative arts you love and discover something new. Besides getting a wonderful evening of music — it's all about the people you meet at the Barclay. I've made new friends, run into old friends and treat every performance as a new adventure." In search of a way to spread the word about one of their favorite arts venues, Lynne and Cindy were inspired to create a devoted group of volunteers, invested in the success of our local "jewel box" theatre. Thus, the Barclay Ambassadors were born!
Once the Ambassador program was created, we knew that Mary and Anita would round out the group perfectly. Both have been generous supporters and loyal patrons of the Barclay for over two decades! Anita reflects, "I can't recall a time when the Barclay was not a part of my life. That's probably why I am missing it terribly during this pandemic time. [It] just feels like home…informal, casual and art-loving — like me!" Anita, like others who call the Barclay home, look forward to when the theatre can safely reopen so that she can be "in a room with music and performance, surrounded by others who experience the same joy." In fact, the reason Anita became a Barclay Ambassador was her belief in the value of the arts to the community. Mary also feels a close connection to the Barclay: "At one point, I was the Associate Director of Geriatrics at UCI. So UCI, the Barclay and the City of Irvine are very important to me. After my husband died in 2014, I was looking around for a personal focus in the broader arts community. I wanted to support the world-class programming that is within walking distance of my home. Very few venues of the Barclay's size can muster the type of talent for the price that we see. I want the community to understand the value of this venue and the people who make it work."
We love our Barclay Ambassadors and are so grateful for their enthusiasm and energy! They are dedicated leaders who go the extra mile to support the Barclay and the community it serves. Whether they are advising on special projects, helping to sell raffle tickets, or introducing the theatre to new patrons, we truly value their input as community liaisons and the time they dedicate to the theatre in addition to their busy careers, families and other projects. Their commitment and insight help the Barclay sustain its legacy of bringing diverse performances to the community and to move forward in its mission of providing joy, inspiration, education and a cherished place to celebrate life through the arts. Thank you, Lynne, Cindy, Mary and Anita!